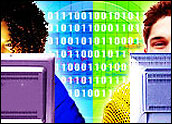 There's a new word in the Web vocabulary: splogs. Internet users may as well get used to it because, just like spam and spim, splogging is making its way into Web-based communication.
Splogs are the equivalent of Web log spam, unsolicited posts to a blog that have nothing to do with the subject matter at hand but rather try to peddle vitamins, Viagra, pornography, or some other scam.
Google's Blogspot blogging portal is finding itself at the center of the splog drama after a major splogging attack last weekend. While an increasing number of splogs on Blogspot has some in the blogging community up in arms, others said Google is not to blame for the insurgents.
A Blogger Debate
Well-known bloggers like Dave Winer have a bone to pick with Google. "Page-rank is under attack and the attackers are winning," wrote Winer. "It won't be long before Google itself is infested."
Prominent blogger Chris Pirillo's blog declared, "Blogspot has become nothing but a crapfarm, and your brand is going to go down with it. If your motto truly is to do no evil, then you need to start putting some resources behind an effort to curb this train wreck."
Blogging expert B.L. Ochman, president of WhatsNextOnline.com, told TechNewsWorld that like spam, splogs are becoming an fact of life in the blogosphere.
"Splogs are an annoying problem," Ochman said. "Some people are saying that Google should be banning some of these people from blogging, but I don't know if anybody can."
Google is now making an effort. The search titan published a list of more than 13,000 blogspot.com subdomains it deleted after the splog attack and promised to put more effort into anti-automation defenses to prevent sploggers from creating automated scripts to post to its blogs.
Is This a Big Problem?
Obviously bloggers, some of whose names have been used in the splogging attacks, are angry. But how big of a problem is this really?
Technorati reports between 2 percent and 8 percent of new Weblogs are fake or spam Weblogs. Spam blogs have been set up to do keyword stuffing using a lot of popular phrases.
Specifically, about 39,000 new fake and spam blogs appeared in the last two weeks as 805,000 new blogs were created, according to Technorati. That means just under 5 percent of new blogs were bogus blogs.
David Sifry, founder and CEO of Technorati, wrote on his blog that one of the remarkable things that comes out of looking at the data is that while spam and fake blogs are a problem, they are not an overwhelming problem.
"We've experienced much worse spam attacks in the past. The key difference in the spam attack over the weekend is that the attackers' posts included many popular search terms including popular bloggers' names — which is a common ego search on engines like Technorati," Sifry wrote. "This made this particular attack much more visible to a number of high profile bloggers than attacks in the past."
The Impact on Blogging
Will the negative publicity give blogging a bad name? No more than spam gives e-mail a bad name, said Ochman. She said splogging will rather give sploggers a bad name — meanwhile blogging is here to stay.
"Blog software is highly recognized by search engines. Everybody wants to get the benefit of the traffic so some people are coming up with these diabolical schemes to get into blogs," she said. "You really do have to pay attention."