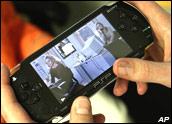 Hackers have figured out how to run unauthorized programs and games on the U.S. version of Sony's new handheld game console, according to published reports this week. Sony was not immediately available for comment.
Sony has installed controls to prevent gaming enthusiasts from running programs and games on the Playstation Portable that are not licensed by the company. This includes classic games designed for use in older versions of the company's game consoles. But hackers have nonetheless been successful in unlocking the handheld machine's capabilities.
Putting Hacking in Perspective
IDC video game analyst Shelley Olhava told TechNewsWorld that hacking gamingconsoles is not a new idea, nor is Sony the only victim.
Hackers found a way to use Microsoft's Xbox as a fully functioning personal computer to house movies and music, serve up Web pages and write software. Sony's PS2 and the earlier version of PSP that was released late last year in Japan have also been hacked.
"This situation is a problem from the perspective that people are changing Sony's system," Olhava said. "But you have to ask the question, will the average person decide to hack their system so that they can play whatever games they want to play? That probably isn't going to happen because this isn't easy to do."
How To Hack a PSP
Sony's restrictions were reportedly defeated by a program disseminated on the Internet this week. The program requires two memory cards that are switched while the PSP is working. The hack only works with version 1.5 "firmware."
The exploit may not be practical or safe — and an accompanying warning says it could cause damage if done improperly. It also represents a challenge to Sony's policy of tight control and opens the possibility that PSP games could be pirated.
"The fact of the matter is that when I play with the PSP, it's meant to play video games that are supported," Olhava said. "While you may be able to put other content on there it doesn't really do a good job of presenting those games."
A New Challenge
Sony released version 1.51 of firmware yesterday, which the company said will prevent the exploit. The latest version includes several security updates to fix vulnerabilities that hackers seek to abuse. Older versions of the handset are still exploitable unless the software is updated.
"From the hacker's perspective, I think cracking the PSP was just another challenge. They wanted to see if they could do it," Olhava said. "But I don't think this is going to have a huge impact."