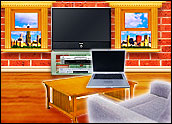 Internet technology is unquestionably poised to transform home entertainment. A quick scan at technology news headlines reveals companies like SBC, Alcatel, Microsoft — and a host of ancillary service providers — are gearing up for what some are calling an Internet Protocol TV (IPTV) revolution.
TDG Research is predicting global IPTV revenues will top US$17 billion by 2010. If that prophecy bears out, then capitalizing on IPTV will be critical to the success of broadband's next big winners.
But 2010 is five years away. While analysts said there is no doubt that IPTV will have its place in the market, there is some debate about whether or not consumers will usher in a full-blown overhaul in this space.
There are still barriers to overcome, in any case, before we see this technology hit the mainstream, let alone transform television viewing as we know it. Nonetheless, there are some early lessons Tier 1 operators can learn from the way the nascent IPTV market operates.
Sanjay Castelino, vice president of Industry Marketing for Motive, a management automation software developer in Austin, Texas, told TechNewsWorld that 2005 is shaping up to be unlike any other year in communications history as the titans of broadband gird for battle.
"Five years ago, the prospect of cable companies stealing voice service market share from telcos was pure fantasy — enter VoIP," Castelino said. "Not to be outdone, telecom providers today are preparing to return the favor with the rollout of IPTV."
IPTV Revolution: Fact or Fiction?
While the IPTV buzz is getting louder, there are a few skeptics. Len Rand, managing director at Granite Ventures, an early-stage venture capital firm in San Francisco, told TechNewsWorld that he's not sure whether or not we will see an IPTV revolution. He prefers to call it a digital and network-connected revolution in which IPTV plays a role.
"IPTV is the [Regional Bell Operating Companies'] response to cable TV operators that have been eating their lunch with the triple play concept," Rand said. "The RBOCs are in a bit of a pickle because the competition is invading their turf. Unless they can get IPTV working they don't have a competitive response."
Rand said customers couldn't care less whether their TV service is coming through IP or cable or a satellite or some other yet-to-be-developed technology. They just want to watch TV.
But David Britts, partner at Palo Alto-based ComVentures, an $8 billion venture capital firm that invests exclusively in communications technology, told TechNewsWorld that there will indeed be an IPTV revolution driven around the concept of TiVo-based services and much wider availability of video.
"IPTV offers advertisers the ability to broadcast more targeted ads. Targeted ads will be much more powerful tools," Britts said. "I think you are going to see ad dollars moving from broadcast TV over to IPTV. I think it will be a revolution."
Pushing for Mainstream Status
It is clear that IPTV is pushing for mainstream status, but there are plenty of barriers on the road to the consumer's living room. While securing content is on the list of challenges, analysts said the bigger challenge is the actual technology.
IP networks were not designed to handle video from either a bandwidth or latency perspective. Microsoft, Alcatel and others are attempting to bridge the gap to quality service as well as how to scale to millions of viewers who may all be watching different programming.
Service providers must also address how to cost-effectively and remotely manage millions of devices, such as residential gateways and set-top boxes in the home, to ensure that if the service goes out, it is quickly and easily remediated, according to Motive's Castelino. That falls under the umbrella of what his company offers RBOCs.
"Service providers wanting to offer IPTV have learned from their experience with DSL that they need to automate installation, activation and problem resolution in order to see a quicker ROI and compete with cable companies that already offer triple play services in many areas," Castelino said.
Motive's customers include BellSouth, SBC Communications, and Sprint.
Taking Notes from IPTV Providers
Mauro Bonomi, founder and CEO of Minerva Networks, a provider of open-platform, carrier-class solutions to deliver television services over broadband IP networks, told TechNewsWorld that insights from both the technical viability of IPTV and its revenue opportunities can be gained by the experience of rural telephone operators.
Over 100 rural telcos are already delivering triple play services using IPTV delivery solutions, according to Bonomi, and these operators are gaining market share against cable TV by offering superior tripe play services.
"Open-platform solutions have served many small and medium size operators,currently offering triple play services, very effectively," Bonomi said.
"The closed system, single vendor approach to deploying IPTV technology lacks choice, which ultimately locks a telecommunications firm into working with the middleware vendor's chosen providers no matter what the cost or infrastructure requirements."
Britts said providers could learn a lesson from the success of IPTV in Japan and Italy, where large-scale deployments are already a reality.
"The lesson learned is that you can really take customers from cable operators," Britt said. "If you offer a compelling solution, this whole idea of triple play and locking in customers with voice, video and data, with video being the key differentiator, IPTV does work."
Mainstream Media
The only question is, when is it going to work? Britts said estimations of when the IPTV revolution will begin are overly optimistic.
He believes we'll see high volume deployments toward the end of 2006 and IPTV will reach critical mass by 2008, giving credence to TDG Research's prediction of $17 billion revenues by 2010.
But Rand is not so sure. He cites the arrival of large digital TVs with built-in Personal Video Recorders (PVR), set-top boxes that store up to 30 hours of TV programming for on-demand viewing, by 2007.
"IPTV could become a very important source of home entertainment," Rand said. "But the digital TV on the high-definition side of it is going to become much bigger than IPTV because people want that high quality picture."