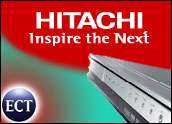 Hitachi Global Storage Technologies this week plans to roll out its first hard drives based on perpendicular magnetic recording (PMR) technology. The company is readying its 2.5-inch 160-gigabyte Travelstar hard drive 5K160 designed for notebook and mobile computing this summer at a price tag of US$269 for the 160 GB product.
Perpendicular recording technology is capable of delivering up to 10 times the storage density of traditional longitudinal recording — on the same media. Like longitudinal recording, perpendicular drives depend on magnetically charged particles to store data. The difference with perpendicular drives is those particles are arranged perpendicular to the disk instead of parallel.
Hitachi plans to implement the technology across its product lines, including its 1.8-inch hard drive, slated for delivery in the latter half of 2006. Other major drive manufacturers plan to include the technology as well. In fact, most hard drives will feature PMR within the next few years.
"Our mission was to deliver PMR technology when it's of the highest value to our customers, which is when the transition from longitudinal recording would be seamless in all regards, including reliability, performance, volume ramp and cost. By all measures, that time is now," said Hiroaki Nakanishi, CEO, Hitachi Global Storage Technologies.
Drive of Steel
Travelstar 5K160 features second-generation head and media technology. Second-generation technology involves major changes to both the write head and the recording media. Hitachi closely integrated development of the media and head to optimize their performance, which is a key enabler to the reliability results of the Travelstar 5K160.
Perpendicular media initially showed lower mechanical reliability than longitudinal media. Perpendicular-media development required a rethinking of reliability metrics and anticipation of new potential failure mechanisms to help ensure the highest levels of corrosion resistance and mechanical robustness, Hitachi said.
Hitachi's second-generation write head acts like an extremely fine pencil-point capable of writing very sharply-defined data bits that can be packed closely together without distortion. This is important due to the high areal density of PMR drives, Hitachi said, noting the increased clarity and fidelity of the written data allows the drive to deliver better bit-error-rate performance and, therefore, better reliability margin.
Reducing Energy Consumption
Hitachi's 1.8-inch hard drive will follow its 2.5-inch brethren in adopting PMR technology in the latter half of 2006. Targeted at the consumer electronics market, Hitachi expects the new drive to offer greater capacity with the lowest power consumption of any 1.8-inch hard drive, due in large part to a reduction of the disk spin-speed to 3600 RPM from 4200 RPM.
Hitachi's new 1.8-inch drive is expected to have a 20-percent improvement in read/write power consumption and the fastest power-on-to-ready time for immediacy of data delivery. Hitachi's new drive is expected to continue its reign as the lightest 1.8-inch drive with industry-leading shock robustness and acoustics.
"If we keep spinning this disc, electrical costs are going to go through the roof. So anything you can do to increase the density and capacity of the drive is going to help the environmental problem. It's becoming a bigger and bigger problem," Dianne McAdam, an analyst at The Clipper Group, told TechNewsWorld.