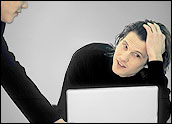 More than 5 million students in 167 countries are getting at least one hour of computer coding instruction this week as part of Code.org's Hour of Code initiative, an event designed to promote computer science in educational curricula worldwide.
During Computer Science Education Week, Code.org is providing educators with the resources they need to give students an introductory computer science lesson. One tutorial video, featuring lectures by Bill Gates and Mark Zuckerberg, walks students through basic algorithms, repeat-loops and conditionals using popular games Angry Birds and Plants vs. Zombies as examples.
Other video tutorials introduce students to JavaScript and Python, and guide them in creating an interactive holiday card. There's a video that teaches kids with some coding experience how to build an iPhone app. In one JavaScript tutorial, students act as a wizard who uses code to navigate mazes and trick enemies.
Code.org is providing incentives to teachers and schools that take part in the program. Educators who organize an event will receive 10 GB of free storage from Dropbox, and participating schools will have the chance to win prizes including laptops or a classroom video chat with tech innovators like Bill Gates or Twitter founder Jack Dorsey.
Big Thumbs Up
The Hour of Code has received several high-profile endorsements from both inside and outside the tech world. President Obama released a video message to students on Monday, calling on them to embrace opportunities in computer science and encouraging them to program their phones rather than just play on them.
Notables including Bill Clinton, NBA star Chris Bosh, singer Shakira and actor Ashton Kutcher have chimed in to support the program.
Several tech companies have voiced support for the initiative, and a few have offered contributions reaching beyond the classroom. Apple and Microsoft are offering customers free Hour of Code workshops in their retail stores Wednesday, which are designed to demonstrate that anyone can learn programming basics.
Google, YouTube, Yahoo, MSN and Disney are highlighting computer science content this week. For instance, Monday's Google Doodle honored Grace Hopper, a computer science pioneer, on the 107th anniversary of her birth.
Getting More Coding in Classrooms
Code.org is hoping that its push can help bolster interest in computer science among young students — especially girls and underrepresented ethnic groups — worldwide. The organization aims to make computer science a part of the core curriculum in U.S. schools, focusing especially on rural or urban districts where the subject may be offered as an elective or not at all.
Early exposure is crucial to fostering a young generation of computer programmers, said Kostas Bekris, assistant professor of computer science at Rutgers University.
"It is well understood that the earlier a student is exposed in logic-based and algorithmic reasoning, the more effective the learning process is and the more committed the learner becomes," he told TechNewsWorld.
The buzz surrounding the Hour of Code is encouraging, but the further development of core computer science curriculum will be an ongoing challenge that needs to far outlast a single hour of education, said Susan Rodger, a professor in Duke University's Computer Science Department and chair of SIGCSE, a computer science special interest group.
"The Hour of Code is just a start," Rodger told TechNewsWorld.
"Today's kids are growing up using computing in many ways, yet they are not encouraged to also be the developers of technology," she pointed out. "Few schools teach computing. That's why the Hour of Code initiative and the work of so many others is so important. It is introducing programming to millions of students who may otherwise not know about computing and decide whether or not it is something they would like to explore further."