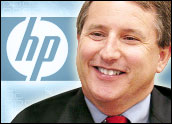 Chief Executive Mark Hurd yesterday revealed HP's three-part strategy for the future.
The company plans to focus on high-growth markets, including enterprise virtualization, data center consolidation, data storage, and high-end printing and mobility.
Three-Pronged Strategy
On the data front, Hurd's thinking is simple: companies are moving towards increased storage area networking and data consolidation. On the printing end, Hurd said HP will target its efforts on photo lasers and multiple services.
Mobile computing efforts, the third area of focus for the company, will center on allowing customers to access data securely from anywhere they happen to be.
"[These trends] play to our strengths … and we are going to take advantage of them," said Hurd, who replaced Carly Fiorina earlier in the year with a mandate to foster consistent financial results and boost stock market performance.
Aligning With Trends
"I believe that HP is aligned with trends in the market," Hurd said. "We have strong assets that we can leverage in our core businesses, and there are opportunities in adjacent markets we can leverage."
Though optimistic about the future, Hurd is not completely satisfied with the present. He told analysts he expected revenue growth of 4-6 percent for the year ending in October 2007.
The company expects earnings of US$1.88-$1.95 a share, excluding special charges and the cost of expensing stock options, on revenues of $89.5-$91 billion for the current fiscal year. That's growth of 8 percent, up from 7.5 percent the previous year.
Hurd's Change Tactics
Hurd has made some dramatic changes since he took the helm at HP, slashing both jobs and costs. He cut the workforce by 15,000 in the past six months alone. The company has also undergone significant restructuring, eliminating an entire sales division and reorganizing its IT systems, during his watch.
HP's profits reflect Hurd's leadership, Rob Enderle, principal analyst at the Enderle Group, told TechNewsWorld. "Financially, HP has been doing a lot better. We've seen a tremendous amount of strength across their entire portfolio," he said. "That's directly related to Mark Hurd's leadership and the executives he has put in place."
One thing Hurd said he would not do is spin off parts of HP. That means no separate entities for its popular PC business, its growing printing business, or its competitive server business.
Aggressive Moves
Hurd has also taken steps toward growing the targeted divisions. HP yesterday signed a definitive agreement to acquire Bilderservice.de, which operates the European photo services and products site Pixaco.
The acquisition will enable HP to rapidly extend the reach of its online photo services throughout Europe, the company said, by building on the purchase of Snapfish earlier this year. HP also plans to extend many of its Snapfish capabilities to the Pixaco service.
Earlier this month, HP expanded its Storage Partner Program to provide customers with advanced solutions that capture, manage and deliver information throughout its lifecycle. The enhanced Information Lifecycle Management Partner Program is designed to help partners expand market reach and offers increased access to HP's worldwide sales and marketing organization.
Forging Ahead
Enderle said Hurd is a "solid ops guy," and that HP is enjoying the benefits of an operational approach in the executive suite.
"Hurd has done was his predecessor, Carly Fiorina, didn't do," Enderle said. "He's built a team of folks who are loyal to him, and he's spoken publicly on operations. That focus and team has led to the results we have already seen and undoubtedly will see in the future."