HTC on Thursday announced its latest smartphone, the Rezound, an Android handset for Verizon's 4G LTE network.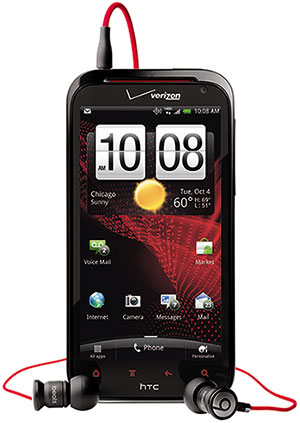 The HTC Rezound
The phone offers several features, most notably a collaboration with musician Dr. Dre and record producer Jimmy Iovine's start-up Beats Audio.
A similar phone, the HTC Sensation XL with Beats Audio, has been available in Europe and Asia, but this is the first U.S. phone to run with Beats Audio.
The phone will arrive running Android's 2.3 Gingerbread platform, though the company stressed it is "Ice Cream Sandwich ready," and the upgrade to the newer platform should follow in early 2012.
A Rezound will sell for US$299 with a Verizon contract and will be available online, in Verizon stores and at Best Buy on Nov. 14.
HTC didn't respond to TechNewsWorlds' requests for further comment.
Feature-iffic
HTC announced the partnership with Beats Audio in August, and it says that since then the companies have been working together to bring an audio experience to the smartphone world.
Beats-branded headphones are included with the phone, and they can also be used as a headset when making calls. Normally, the headphones can go for as much as $180.
As the smartphone market continues to tap into a younger, music-focused crowd, the Beats partnership could be a huge draw for the Rezound.
"I suspect that will be the big marketing angle for this handset and what consumers respond to. The included Beats headphones will help to make this stand out as a music phone, and I expect that will be what the salespeople emphasize in the stores," Bill Morelli, director of mobile technologies & convergence at IMS Research, told TechNewsWorld.
The phone also comes equipped with enhanced screen quality on a 4.3 inch 720p HD touch display, a dual-core processor, and a camera with a low-light sensor designed to take better photos in dark areas. An option exists with the camera to record and also play back video in slow motion, which could prove to be a draw to customers.
It will also run on Verizon's 4G LTE network, although outside of tech-savvy consumers, 4G hasn't necessarily proven to be alluring enough to draw consumers away from competition.
"I don't think the average consumer has any idea of the difference between 4G HSPA+ and 4G LTE. So really, on that front, this handset will just be competing in the stores with all of the other 4G-labeled handsets," said Morelli.
Standing Out From the Crowd
As smartphone use becomes more popular — many research companies, such as Gartner and IDC, project around a 55 percent growth in smartphone sales from 2010 to 2011 — HTC and other handset makers are constantly competing to differentiate themselves from the crowd.
"HTC is looking to differentiate. We're reaching the point in the market, especially in the U.S., where there needs to be some kind of singularity when you release a phone, because it's gotten to be almost an arms race," Nick Dillon, analyst at Ovum, told TechNewsWorld.
One way Android phones previously tried to distinguish themselves were through the large screens. Customers responded well and Samsung followed suit, (unlike Apple's iPhone, the screen size on which hasn't changed), but it seems screen size has reached its upper limits.
"There's a limit on how big you can make the screen without turning it into a tablet. When you can't fit it in your hands or pockets, there's kind of a diminishing utility there. Now, what we're seeing with the Rezound, is keeping it around 4.7 inches or so and increasing the pixels on the screen, trying to cram more and more in there," said Dillon.
The Rezound has its distinguishing features, such as the Beats audio experience and supposed enhanced imaging capabilities, but now there are so many Android phones on the market it's tough to see the Rezound as making a significant splash.
"Consumers have been so saturated in Android marketing that one more Android smartphone does not make a difference in and of itself," said Morelli.