HTC revealed a new line of smartphones at Barcelona's Mobile World Congress Sunday, showcasing handsets designed to emphasize audio and sleek, efficient displays.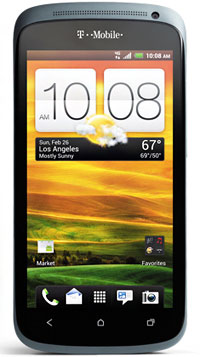 The HTC One X
The line will include three handsets under the collective HTC One series: the One X, One V and One S. All will run on Android Ice Cream Sandwich and will come with 25 GB of cloud storage space courtesy of Dropbox.
The phones will also feature Universal Beats Audio.
The HTC One X will run on a dual-core processor in the U.S. HTC highlighted the "powerful quad-core chipset" for users looking for a faster, smoother way to run games and browse the web, but One phones with quad-core chips won't immediately be released in the U.S. International versions will have an Nvidia Tegra 3 4-PLUS-1 quad-core processor, while the U.S. versions will use a Qualcomm S4 dual-core one.
The reason: The technology of the Tegra quad-core processor isn't yet compatible with chips that run on LTE frequencies. AT&T will carry the HTC One X.
The HTC One S and One V will ship with dual-core processors in all markets. The One X checks in with a 4.7-inch screen, the S features a 4.3-inch display, and the V has 3.7 inches.
The One S will be available this spring from T-Mobile.
HTC didn't respond to our requests for comment on the new line.
Standing Out in a Crowded Field
The Android smartphone world is only getting more crowded, and HTC is advertising certain selling points in its One series in a drive to make it stand out against the competition — primarily its "enhanced" sound experience.
It's not HTC's first mobile launch with enhanced audio. The Rezound, which debuted in November in the U.S., arrived with the high-quality headphones.
"The HTC One is leveraging the same features but with a less Beats-heavy message," John Feland, CEO and founder of Argus Insights, told TechNewsWorld.
However, sound quality alone may not be enough to move units, according to Colin Gibbs, an analyst at GigaOM Pro.
"While the Beats audio may be great, I have yet to see any data indicating sound is a big selling point for a phone," he told TechNewsWorld.
The quad-core processor could have been that selling point to some U.S. consumers looking for a more powerful smartphone. However, even if it was to arrive on U.S. shelves, that feature alone may not speak to a large portion of the current market either.
"The introduction of quad-core chipsets are actually a consumer nightmare because of battery life," said Argus' Feland. "Most applications do not yet take advantage of the dual-core chipsets out there, and as Motorola found with the new Razr, that performance comes with a steep price for users."
Sharpening Focus
However, the phones may still stand a chance of reaching the upper echelons of the Android hierarchy.
"In a general sense, the One handsets certainly seem to have the features and functionality to compete with the best Android phones on the market," said Gibbs.
It's part of a general strategy of focusing on high-quality, technologically impressive smartphones that HTC has been employing for its 2012 handset launches.
"HTC is wise to simplify its lineup and target mid- and high-end users by focusing on the One brand," said Gibbs. "Android is a crowded bandwagon teeming with a bunch of handsets from multiple manufacturers and carriers, so HTC could differentiate itself by offering a small variety of phones under a single, high-profile brand."
That differentiation is a challenge that HTC and its competitors face in the Android market.
"Overall, HTC is still delighting customers in the U.S. market though losing buzz leadership to Samsung. The handsets HTC launched in the second half of 2011 did not delight customers as much as the new offerings by Motorola and Samsung," said Feland. "That being said, they have brand capital to spend, and the new HTC One series will benefit from spending some of that brand capital."
In the U.S., though, making an impression often requires the cooperation of wireless carriers whose interests may not align perfectly with those of manufacturers.
"Marketing the phones aggressively to raise consumer awareness and create and identifiable brand will require the cooperation of U.S. carriers who constantly look to co-opt handset lines by imprinting their own branding," said Gibbs. "HTC must find ways of keeping its One lineup consistent and uniform, even as carriers put their own stamps on the phones. I think that's possible, but it won't be easy."