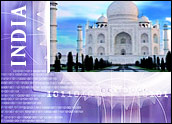 While Nigeria welcomed the One Laptop Per Child initiative, ordering 1 million of the US$100 laptops earlier this week, India is apparently snubbing the concept.
On the heels of the OLPC's first actual order for its Linux-powered notebook computers aimed at making modern technology available to children in developing countries, the organization has learned that the Indian government would rather spend its money on teachers.
"We need classrooms and teachers more urgently than fancy tools," wrote Education Secretary Sudeep Banerjee in a letter recommending against the laptop idea. According to a Times of India article, Banerjee questions whether laptops would be useful, even if affordable.
Four Million to Go
MIT Media Lab researchers are behind the $100 laptop concept. A prototype of the low-cost laptop debuted last year. The goal is to distribute 5 million to 15 million of the machines to children in countries such as China, Egypt, Thailand and South Africa.
Nicholas Negroponte, chairman of OLPC, believes laptops are both a window and a tool; a window into the world and a tool with which to think. He contends that computers are a wonderful way for children to learn.
The decision by the Indian government could mark a significant setback for the project, which needs to secure orders and payments for 5 million to 10 million of the machines before manufacturing begins.
The initial goal was to have units ready for shipment by the end of 2006 or early 2007. The first units will likely be sold for $140 each.
Still Moving Forward
OLPC organizers could not immediately be reached for comment, but analysts said a lack of support from India does not kill the project. It just requires a reassessment.
"Some countries are going to be amenable to these initiatives and some are not. Users want a full experience. They want the real thing and they want it cheap. There's an issue of how you manage that," Endpoint Technologies Senior Analyst Roger Kay told TechNewsWorld.
The AMD-ATI vision of a single chip that houses multiple functions could allow low-power, low-cost full-function systems to be manufactured in the next few years, Kay added. That could be attractive to some developing countries.
The Real Deal
The brainchild of Negroponte, the $100 laptop has been marketed as "the real thing" to which Kay was referring. It will be a full-color, full-screen portable computer that uses the cost-free Linux operating system. It will be rugged and powered by wind-up and other innovative sources of electricity for use in remote places.
The laptop will come enabled for wireless and cell phone Internet access, and have several USB ports to accommodate potential additional peripheral devices such as a printer. Its current specifications include a 500 megahertz processor, one gigabyte of memory and an XVGA display.
While desktops can be made more cheaply than laptops, Negroponte said the latter's mobility is important. The $100 laptop will accomplish "almost everything" possible with an expensive computer, he added. However, what it will not do is store a massive amount of data.
The $100 machines will not be sold to individuals but will instead be distributed through ministries of education with initial orders limited to a minimum of one million units.