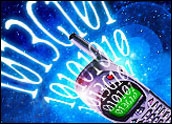 HP and Infinity Broadcasting today announced they will work together to deploy Visual Radio to U.S. listeners. But analysts are skeptical that carriers will grab hold of the concept.
Developed by Nokia and offered by HP, Visual Radio allows listeners to tune in to local FM radio via their mobile phones while simultaneously receiving interactive information and graphics that are synchronized with the broadcast.
Leading the Effort
Users can view the title and artist of a song playing, check upcoming concert dates, purchase ring tones or other content from the artist, and participate in radio station promotions.
"Mobile phones are the most widely used portable device and we're thrilled to be leading the Visual Radio effort in the United States in concert with HP and Nokia," said Joel Hollander, chairman and chief executive officer, Infinity Broadcasting. "Partnerships that afford us the opportunity to integrate our content with new technologies and serve our listeners with an additional interactive environment are central to Infinity's long-termgrowth strategy."
The Revenue Streams
Infinity said for radio station operators, Visual Radio can increase listener loyalty and advertising revenue. For mobile carriers, Visual Radio provides an opportunity to increase data services usage and revenue, as well as average revenue per user.
But IDC analyst Lewis Ward told TechNewsWorld that he's not sure if there'senough incentive for carriers to deploy such a phone.
"Sprint is monetizing radio today with MSpot, which is satellite radio, for US$5.95 a month," Ward said. "But the iPod phone is not out there because operators can't figure out how to make money on it. This is an interesting announcement, but there's a lot of work to make sure the necessary business models are in place."
Behind the Curve?
Outside of the United States, radio station operators such as Virgin Radio (UK), SBS stations such as Kiss FM (Finland), The Voice, Mix Megapol and Rockklassiker (Sweden), and FFH Hit Radio (Germany) are already creating Visual Radio content to deliver it to listeners with Visual Radio-enabled Nokia mobile phones. HP is betting the U.S. will follow suit.
"Broadcasters and content creators are embracing new technologies and business models that enable them to reach listeners in new ways," said Shane Robison, chief strategy and technology officer for HP. "Infinity's adoption of the Visual Radio service in the United States is evidence of the exciting possibilities that lie ahead for the radio industry."