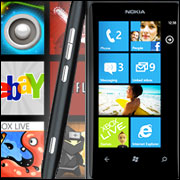 Instagram and Waze became available Wednesday at the Windows Phone Apps+Games store — the latest popular titles to join the expanding platform.
Facebook-owned Instagram, which already has 150 million users worldwide, allows users to enhance and add filters to their photos and then share them with fellow Instagram users.
Waze, which was acquired by Google earlier this year, uses real-time data provided by its 50 million users worldwide to update drivers on traffic conditions, slowdowns and hazards for the most up-to-date driving directions. The app also gives users crowdsourced information on the cheapest nearby gas stations.
Not Fully Baked
The Instagram app for Windows Phone isn't exactly like its Android and iOS counterparts. On the other platforms, Instagram users can capture a photo directly from a camera interface within the app. The Windows Phone version directs users to their camera roll instead of a camera interface. From there, they can choose a photo to enhance, or they can use their camera to take a new photo that they can then edit using the Instagram app.
Windows Phone users cannot upload or record videos from the app, but they can see videos from other users in their News Feed.
Instagram acknowledged its transition to Windows Phone wasn't finished, and said it would continue to develop the app to better fit the platform going forward.
Devs on Board
An average of 500 new apps are being added to the Windows Phone Apps+Games store each day, Microsoft noted. Vine and Angry Birds Star Wars II are among the more popular apps it offers. Favorites like Mint, Xbox Video and Flipboard are expected to show up soon.
The addition of one or two popular apps isn't enough to propel the platform into the next level of competition, but it is an indication that developers are slowly but surely starting to take Windows Phone seriously, said GigaOM analyst Colin Gibbs.
"Microsoft's platform is quietly growing traction in the U.S.," he told TechNewsWorld.
Investments Going Forward
In order to keep that momentum alive and reach a broader audience of consumers and developers, "Microsoft needs to make the Windows Phone platform user interface more user-friendly," said Gerry Purdy, chief mobility analyst at Compass Intelligence.
"Microsoft needs to build solid streaming services for music and give alternatives to Metro," he told TechNewsWorld. "They also need to ensure that Office is available and smoothly integrated with the desktop and Exchange service for enterprise users."
Microsoft's performance in the hardware arena will be crucial to gaining more market share for Windows Phone and enabling it to compete with iOS and Android, Gibbs added.
"The company's biggest challenge will be producing compelling smartphones," he said. "Now that it has taken over Nokia, other manufacturers will be far less likely to produce Windows Phone handsets, so it will be up to Microsoft to offer a wide range of supporting smartphones. If Microsoft can do that, Windows Phone should continue to grow at a steady — if not exactly breakneck — pace."