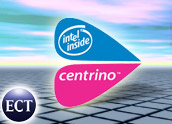 Chip maker Intel is set to launch an overhaul of its Centrino laptop platform — the first to use flash memory chips, which should mean faster performance and longer battery life.
The latest Centrino, dubbed "Santa Rosa," is the fourth generation of the company's successful laptop platform brand that helped popularize the WiFi technology that is now standard in the wireless industry.
Acer, Asus, Fujitsu, Sony and Toshiba already announced plans for new models featuring the mobile platform.
Multimedia Books
They're equipped with ExpressCard, the successor to the formerly ubiquitous PC card slot.
However, what makes the overhaul unique is that the new product is not a processor, but rather a platform. It is constructed of an entire set of components that include the main processor and secondary chips to add new features, such as a mobile network plug-in.
"Anything typically loaded off a disc comes much faster; boot times, games — everything is faster," Rob Enderle, principal analyst with the Enderle Group, told TechNewsWorld. "It is a significant boost for the system."
All of the models support wireless 802.11 Draft-n, according to Intel.
Long Battery Life
In addition to providing a performance boost, the new hardware will increase battery life by storing some data on flash memory similar to that found in digital media players and digital cameras. Flash chips can be accessed more quickly than a hard drive and also use less power, said Enderle.
"It makes a big difference for all users," he said. "If you want to get on a plane, you're going to want to have enough battery life to do your work."
Intel has also improved the integrated graphics of Centrino laptops, adding features and software that make video richer.
Market Battle
Santa Clara, Calif.-based Intel, which currently pulls in approximately 80 percent of the entire mobile computer market, has upgraded Centrino once a year, on average, in an effort to meet competition from rival Advanced Micro Devices.
AMD is slated to release a similar product this year, Enderle noted, and Apple is also introducing an ultra portable PC that employs NAND-based flash memory.
Because portable computers now grab the biggest share of the personal computer business, manufacturers are increasing their focus on developing new technologies for mobile machines.
Last year, sales of personal computers were up 7 percent overall, with desktop sales accounting for just 2 percent of that increase. Laptop sales, on the other hand, grew by 26 percent, according to IDC.