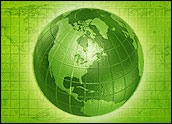 Intel and rival National Semiconductor this week announced they are going green with their manufacturing processes.
Santa Clara, California-based Intel said it will, later this fiscal year, begin shipping new chips that have 95 percent less lead than its current chips. Cross-town competitor National Semiconductor today disclosed that it, too, plans to offer lead-free packages for its "complete line" of integrated circuit products by the end of 2004.
"[National Semiconductor is extending] its effort to make innovative, high-performance products that are environmentally friendly and easier to recycle," Kamal Aggarwal, executive vice president of the central technology manufacturing group at National Semiconductor, told TechNewsWorld. "As soon as our customers require lead-free packages, we will provide them."
Regulations on Hazardous Substances
Regulations pertaining to use of hazardous substances in consumer goods — such as electronics — are getting stricter every year. Electronics makers are under intense pressure to use materials that can make the global environment cleaner.
For example, Japanese electronics giant NEC is planning to eliminate the use of lead in its product lines by March 2006 using the new Intel chips. Korean rival Samsung has similar plans.
"We have aggressive plans in place to adopt National's lead-free ICs for use in a wide variety of other Samsung products," Soo Kyung Yoo, vice president of quality at the display design center for Samsung Electronics, told TechNewsWorld.
Still, the chip-making rivals are spending heavily to differentiate their respective products.
Lead Free and Energy Efficient
The Intel chips are energy efficient in addition to being nearly lead-free. This week, Intel launched four new products, including a 1.1-GHz Pentium M, a low-voltage 900-MHz Celeron M, an ultra-low-voltage 1.3-GHz Pentium M and a 1.4-GHz Celeron M, targeting the notebook computer market.
These low-voltage chips have lower clock speeds in comparison with rival products, but they employ the least amount of power of any of the chips produced by Intel for the notebook-computing market. Operating at just over 1 volt and consuming 7 watts of power, the chips will be used by manufacturers in an array of lightweight products.
The chips also produce less heat than other processors because they consume less power. Companies can use them along with smaller battery cells to reduce the overall weight of notebook computers.
One of the leading notebook computer makers planning to use the low-voltage chips is Motion Computing.
Green Computing Gathers Momentum
The green-computing trend is picking up momentum. National Semiconductor says more than 90 percent of its IC products are now lead-free. In addition to eradicating lead, chipmakers are striving to take out the bromine- and antimony-based flame retardants in their products.
"Samsung is currently using about one-half-dozen different lead-free ICs from National Semiconductor in its flat-panel display products, which are sold worldwide," said Kyung Yoo.
The companies noted that packaging is a critical part of the semiconductor-making process, and that environmentally friendly chips also can be used in other electronic devices, such as wireless phones, which must have light weight and long battery life.
The industry effort to go green — that is, to eliminate lead and other hazardous materials from semiconductor products — began about four years ago. It is a move that is aiding recycling efforts in addition to making products lighter and reducing lead pollutants.
"Electronic products are typically recycled to recover precious metals, such as gold and silver, used in the printed circuit board," said Aggarwal. "Eliminating lead from components will dramatically improve the efficiency in the separation and disposal steps of the recycling operation."