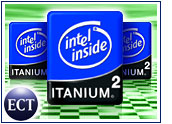 Earlier today, at a developer's forum in Taipei, Taiwan, chipmaker Intel disclosed that it has developed two new, low-priced Itanium processors targeted toward the server market. Servers employing the new processors will be about 28 percent lower in price and up to 25 percent faster than earlier Itanium 2-based servers, the company said.
A 1.4-GHz version of the processor with 3 MB of Level 3 cache is available now, while a faster, 1.6-GHz version with the same amount of cache will be available in May, the company said in a statement. Industry research shows that Intel's server architectures make up approximately 85 percent of the market segment.
"As Itanium 2-based servers push further into enterprise infrastructures, we are able to reduce the overall system cost while increasing the performance," Richard Dracott, general manager of enterprise marketing and planning at Intel, said. "End users will benefit from the flexibility and choice that Intel-based solutions bring to their organizations."
Enterprise Infrastructures
"In the next few years, system manufacturers will be able to design an Itanium 2 processor and Intel Xeon processor-based system using the same low-cost components," Dracott said, alluding to the fact that Intel is planning to merge the Itanium and Xeon processor lines. "Every product and technology we roll out moves us one step closer to a common system with common infrastructure costs."
While 64-bit computing has met with increased acceptance of late, there is still a dearth of software that can run natively on a 64-bit processor. Both Intel and AMD — in addition to software makers like Microsoft — are planning to change that trend.
For example, diverging from its usual dedication to Intel-based machines, Microsoft last month made public a beta version of Windows XP for use on 64-bit computers running the AMD Athlon 64 and Opteron processors.
However, analysts have downplayed demand for 64-bit systems, pointing to the small number of 64-bit processors and even smaller number of applications that can run in 64-bit mode.
Audi's Need for Speed
Despite the lack of strong demand for 64-bit systems, early adopters are using the technology. For example, international luxury car manufacturer Audi AG recently switched from RISC-based servers to HP Integrity servers that run Itanium 2 processors.
"Audi is a pioneer in the innovation of exquisite automobiles that are attractive, sophisticated and technically perfect," said an Audi spokesperson. "We switched from RISC-based systems to Itanium 2 dual-processor systems to help design car ventilation systems. We get better price-performance and increase our ability to perform a wide range of what-if scenarios to discover more innovative designs and possibilities."
Aberdeen Group chief research analyst Peter Kastner recently told TechNewsWorld that there are only about 100,000 Intel Itanium 64-bit machines on the market today, indicating that 64-bit computing will not be truly significant for users nor for software developers like Microsoft until Intel commits more wholeheartedly to the technology.
64-Bit Demand
"Very few consumer desktops can take advantage of 64-bit," Kastner told TechNewsWorld. "Intel has to drop the other shoe and deem that the broad, mass market for consumers is ready for 64-bit. I predict that will not be this year."
While analysts agree that demand for 64-bit offerings is not that strong, AMD's 64-bit Opteron, unlike the Itanium 2, is backward-compatible with 32-bit software. This compatibility could give AMD an edge when it comes to adoption.
The Operon's backward compatibility has prompted analysts to speculate about the AMD chip's initial popularity. "It's not so much 64-bit as it is AMD's next-generation chip — which is better, faster and more efficient," Gartner research vice president Martin Reynolds recently told TechNewsWorld.