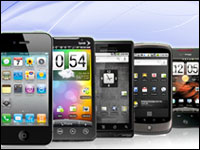 More than half of the adults in the United States now own a smartphone, constituting a new milestone in the history of the device, according to the Pew Internet & American Life Project.
Specifically, smartphone adoption has grown to 56 percent of American adults, according to Pew's Smartphone Ownership 2013 report released this week.
That's the largest percentage since Pew began tracking smartphone adoption two years ago and represents a significant jump from the 46 percent that owned one in February of last year and the 35 percent from two years ago.
Income, Education Factor In
Slightly more than one-third of adults in the U.S. have a cellphone that isn't a smartphone, leaving just 9 percent of the American adult population that doesn't own any type of cellphone at all.
Each age demographic saw growth from the previous year, but 81 percent of adults between the ages of 25 and 34 now own a smartphone, making it the group with the highest ownership rate.
U.S. adults with relatively higher household incomes and education also had higher rates of ownership, as did those in urban and suburban — rather than rural — areas.
A New Era
Pew's data confirms the statistics that many tech industry watchers have marveled at for the past few years. Namely, smartphone adoption has been remarkably swift, said John du Pre Gauntt, an analyst at GigaOM Pro.
"What we call a smartphone is basically a handheld computer that makes phone calls," du Pre Gauntt told TechNewsWorld. "The idea of spending US$99 on one was unthinkable even in 2006 or 2007, but now it's very ordinary."
It's so ordinary, in fact, that the cost of not having a smartphone is becoming higher than the cost of owning one, he said.
It's not just professionals in tech-savvy fields that need a smartphone anymore; several jobs in service industries now require workers to be connected via an app, to facilitate mobile payment services or to be able to access navigational services via their device.
"We're getting a cost of nonparticipation with smartphones," du Pre Gauntt said. "If you want a job with a professional organization and you walk in with a cheap phone, they're going to look at you differently."
That's not just true in white collar fields, either: "Several positions such as roofers or other blue collar jobs are responding to e-mails in the field or using location services to get to job sites," he noted.
Staying Safe and Social
Of course, the new abilities come with a new set of risks, Anna Bager, vice president and general manager at IAB, pointed out.
Specifically, the more a person uses a smartphone, the more personal data it contains — especially if consumers are taking advantage of mobile banking or commerce applications — making the consequences of a cyberattack potentially more threatening.
"Clearly, mobile users are leaning into their devices for personal finance assistance wherever and whenever they happen to have a need," Bager told TechNewsWorld.
"Most financial apps already contain rock-solid security, but consumers seem not to be as plugged into the fact, and that knowledge gap can make all the difference in driving further usage and adoption."
In addition to security concerns, the rise of smartphones also means that people are changing the way they interact with other humans, suggested Chetan Sharma, president at Chetan Sharma Consulting.
"As with most things, there are downsides," Sharma told TechNewsWorld. "We as a society are so glued to these devices that we are changing some social norms — for example, people checking their e-mails while having dinner with a friend or significant other.
"Instead of talking to their kids, parents routinely just hand them their smartphone to quiet them down," he added.
The Differentiation Challenge
Security and social concerns haven't slowed the market yet, though.
With more than half of the adults in the U.S. now owning a smartphone, other industries are trying to determine how best to target this relatively new crowd, said du Pre Gauntt.
Smartphone makers have made large strides in just a few years in translating certain capabilities from a PC screen to a smartphone so that consumers can now play games, browse the Web, socialize and watch digital entertainment in mostly the same way they could on their computers.
Now, the challenge is to figure out how to differentiate the products, du Pre Gauntt observed.
"A smartphone and a PC are both essentially computers, but most people don't walk around with a laptop open, using mapping services or comparing prices at big retailers," he pointed out. "The technology in a smartphone hasn't really changed from a PC model, but the way we use applications and services and the user experience in general is very different."
'The Market Will Persist'
That means the market for services that are truly unique to smartphones is going to take off as rapidly as smartphones did, said du Pre Gauntt. Going forward, smartphone users will find more advertisers targeting consumers with mapping and location-based offers, mobile commerce and payment options, and increased applications for the educational market, where it is easier and more affordable to arm students with smartphones that it is PCs.
With so many possibilities, and a two-year contract on most phones, that means the market doesn't show any signs of stopping, said Sharma.
"The good thing about the smartphone market is that people change them more often than their computer or car," he observed, "so the market for new smartphones will continue to persist in the near term."