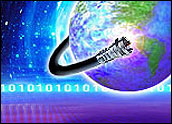 Korean telecommunications provider KT Corp. announced yesterday it has selected Siemens Communications and Sycamore Networks to deliver an optical switching solution. Analysts said this is a major win for the duo as the world watches broadband development in Korea.
KT will deploy the intelligent optical switching solution to increase the performance and scalability of its high-speed communications infrastructure. The technology will be part of the nationwide backbone network designed to support a variety of next-generation voice and high-speed data applications.
The optical switching solution will be provided via the Siemens and Sycamore global strategic alliance, and as part of an agreement between KT and Siemens' indigenous partner KDnet.
All Eyes on Korea
Enderle Group senior analyst Rob Enderle told TechNewsWorld that landing KT is a "big deal" for Siemens in light of the fact that Korea is leading the world in broadband deployment.
"About 80 percent of Korea's population is covered by broadband — and theirs is real broadband running at about 5 Gigabits per second," Enderle said. "That's something more than five times what we typically see here in the United States."
Analysts said the world, and especially other Asian countries, is watching Korea's broadband revolution.
Keeping Tabs on Siemens
Because Korea is the leading geography to watch in terms of broadband, Siemens winning this particular deal makes it the company to watch, at least for the near term. Siemens has undoubtedly already made a name for itself in optical switching; analysts said the Asian world is about to become more familiar with its technologies.
"When you have the most expert country making a vendor selection, it causes the other countries to sit up and take notice," Enderle said. "Like anything else, when you have a bellwether in telecommunications technology move — and Korea is now bellwether when it comes to leading telecommunications technology — the rest of the market clearly thinks about following."
Tag Team Switching
The solution KT ordered includes Sycamore's SN 16000 intelligent optical switching systems, the Universal Service Card, a modular interface card that supports SONET/SDH, Gigabit Ethernet (GigE) and 10 GigE services, and SILVX Network Management System.
Consolidating multiple functions in a modular, intelligent systems architecture, the SN 16000 is designed to reduce operational cost and complexity in the optical network, integrate seamlessly with existing technologies and management systems, and form a robust and scalable foundation for next-generation broadband services.
The SN 16000's USC is a flexible service interface card that enables cost-effective optical networking by supporting a variety of interface types, port speeds, and transport options in a single line card.