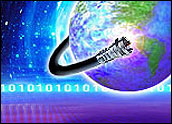 Senate Commerce Committee Chairman Ted Stevens (R-Alaska) on Monday introduced a bill that would lower the barriers for phone companies to offer video programming.
Telecom titans like AT&T and Verizon Communications lobbied for legislation that would make it easier to get local franchises from thousands of municipalities to offer video over their new, high-speed networks.
"The overarching theme of the bill we introduce today is deployment of broadband nationwide," Stevens said when he introduced the Communications, Consumer's Choice and Broadband Deployment Act.
"We are not only behind most of the developed world, we even lag behind some of the less-developed parts of our globe," Stevens said, noting that the United States ranks 16th in worldwide broadband adoption.
Hotbed for Controversy
While Sen. Stevens' bill would still mandate approval from local authorities, it would also mandate a time frame within which those authorities must respond. If municipalities do not act on requests within 30 days, a franchise is automatically granted to phone companies.
A separate House bill instead proposes a national franchising process that removes the phone companies' obligation to seek permission from each municipality.
In its current form, the Senate bill covers many issues that the House bill does not. As a consequence, the Senate bill raises a lot more potential controversy, according to Paul Glenchur, a telecom regulatory analyst at the Stanford Washington Research Group.
The Senate bill addresses the broadcast flag, a set of status bits sent in the data stream of a digital television program that indicate whether or not it can be recorded. It would also extend Universal Service Fund payments to consumer "communications providers," including broadband and Voice over Internet Protocol providers.
Seeking Consensus
"The Senate bill talks about broadcasters providing white space for unlicensed wireless use. Overall, it's getting into issues that could make it much more difficult to find a consensus," Glenchur told TechNewsWorld. "The question simply is, does it become more streamlined as it works its way through committee and potentially beyond? That remains to be seen."
Daniel K. Inouye (D-Hawaii), the Commerce Committee's ranking minority member, co-sponsored the Senate bill out of what he called a spirit of bipartisanship, but said his endorsement is not a demonstration of support for the bill itself. Inouye explained he has "numerous, substantive objections" to the legislation.
Net Neutrality Revisited
Now that the Republican draft is no longer a secret, he added, the Senate can begin a full review of the bill and address the issues of importance. "At first glance, some provisions will need to be deleted or changed substantially, and some issues still need to be addressed," Inouye said.
Network neutrality is a key issue. Telecoms currently plan to charge different fees for businesses that want faster delivery of their content to consumers over the Internet. U.S. Senator Ron Wyden unveiled legislation in March that would prohibit such telecoms from favoring certain types of content over others.
"We cannot ignore concerns about the potential for discrimination by network operators, but the draft appears to do just that by failing to create enforceable protections that will ensure network neutrality," Inouye said.
Regulators said it is unlikely that a telecom bill will pass this year considering the various issues legislators are debating.