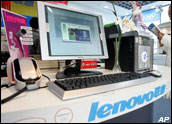 Lenovo announced a new tablet PC today, marking the company's first mobile computer product since it acquired IBM's PC division last month.
The ThinkPad X41 Tablet includes a writeable slate, a full-size keyboard, and a 12-inch screen. It is just over an inch thick and weighs only 3.5 pounds. The Tablet offers ThinkVantage Technologies for wireless connectivity and is expandable through the new ThinkPad X4 Dock.
ThinkPad X41 also includes a digital pen and an optional integrated fingerprint reader for unsurpassed security. It runs on Microsoft Windows XP Tablet PC Edition 2005. Microsoft corporate vice president responsible for mobile PC computing expects the product to do well in the enterprise market.
"The launch of the ThinkPad X41 Tablet marks a significant milestone for the Tablet PC platform and is a well-timed response to the growing demand we're seeing for Tablet PC functionality," Mitchell said.
A Premium Product
Stephen Baker, director of industry analysis at the NPD Group, told TechNewsWorld the ThinkPad X41 is still purely an IBM product. It is not the fruit of the two companies working together — but it is a premium product, he added.
"IBM makes a premium notebook and everything it does tends to bring with it the feeling of quality and improvement," Baker said. "There isn't any question that this is a step above what they've done in the past."
The question, rather, is the market for Tablet PCs.
Since their introduction in November 2002, Tablet PC sales have increased but are still only a blip compared with overall notebook sales. In 2004, about 48.9 million notebooks were shipped worldwide, according to IDC. Only about 650,000, or 1.3 percent, of those were Tablet PCs.
A Premium Problem
The tiny market could be a big problem for Lenovo and its competitors. As yet, Tablet PCs are niche players in key vertical markets. Hospitals and international shippers seem to have grabbed hold of the concept, but that's about as far as Tablet PCs have penetrated.
"Tablet PCs are going to continue to be a vertically-oriented product whether people are making nice Tablets or not," Baker said. "I really think the problem has been not in the design of the products but in the application of them. What is the real reason why I would want a Tablet PC?"
Indeed, the concept of writing on a PC hasn't gained a lot of traction with general consumers. Beyond the healthcare setting, where Tablet PCs provide immediate access to extensive patient information at the point-of-care to help to drive down administrative costs and reduce errors, these machines have gone largely unnoticed.
"The thing to remember is there's nothing wrong with having vertical products," Baker said. "In a maturing market, like the PC market, verticals are a place where you can typically be successful and profitable. It's a lot harder to develop products for the mass market than it is for a vertical market."