Lenovo unveiled its IdeaPad Yoga recently at CES, showing off a notebook with a 360 degree hinge designed to be used in a variety of ways in addition to the conventional laptop style.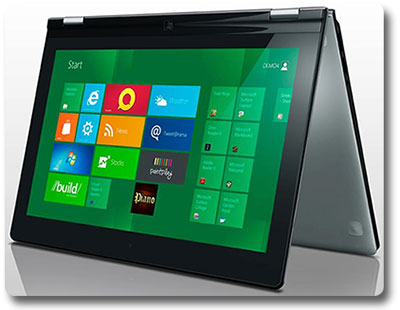 The Lenovo Yoga
The Ultrabook, which will run on Windows 8, can be opened and folded back on itself to be used as a tablet or e-reader with touchscreen capabilities. It can also be propped up like a tent for a better video watching experience, for example, or used as a traditional laptop.
Convertible tablets aren't a new idea, but on the Yoga, the hinges are designed to be sturdier than the swivels used in the past. When it's flipped and used as a tablet, the keyboard deactivates, so it can be placed on a flat surface or used on the go without worrying about hitting a key. The palm rest has a leathery surface so it can rest firmly and easily while being used as a tablet, and the whole device has a rubbery coating for durability.
The device is .67 inches thick, weighs 3.1 pounds and has a 13.3 inch screen, with a battery life of up to 8 hours. It will come with as much as 256 GB of SSD and 8GB of RAM. It's expected to start around US$1,199 sometime in the second half of 2012.
Lenovo didn't return our request for more comment about the product.
Best of Both Worlds?
The dual functions of Lenovo's Yoga could be a step toward merging laptop and tablet use. Users are becoming increasingly drawn to the mobility and ease of tablet products but in general have stuck with the laptop for business purposes.
"Tablets thus far have pretty much been complementary devices. They're great for playing games, surfing the Web or watching video, but most users prefer laptops when it comes to writing e-mails, creating documents, etc. But the IdeaPad Yoga is intriguing because it bridges the gap between the two. It has full touchscreen functionality but also a fully integrated keyboard," Colin Gibbs, analyst at GigaOM Pro told TechNewsWorld.
"Our research shows that people with iPads or other tablets also must carry their laptops with them to handle the heavy duty computing they still have to do, especially with their business applications. That is why there is actually pent up demand for a device that has the full functionality of a laptop for heavy lifting and a pop off screen or screen like the Yoga's that give you the best of both in a single product," Tim Bajarin, president of Creative Strategies told TechNewsWorld.
Lenovo's Not Alone
The consumer device market is a crowded one, and hybrid products probably won't be an exception to that rule. Lenovo's Yoga could have a competitive advantage by running on Windows 8, though.
"I believe hybrids will be the sleeper product of late 2012. Although we have had some on the market now, they are either all Android-based or a mix of Android on the tablet and Windows on the laptop. Windows 8 could give these types of devices a real boost," said Bajarin.
Although the iPad is a leader in its market, Apple and iOS is still off-putting to some users, so Microsoft's system on a fully functional machine could appeal to some of those users.
"Because it runs Windows 8, it will appeal to mainstream users are comfortable with Microsoft's OS. So Lenovo can market it as a replacement for laptops rather than an additional device," said Gibbs.
Bajarin said that could even be the main reason the device could become popular.
"Lenovo's Yoga is one of the better early versions of this concept, and I expect to see many more by quarter four. But it will be Windows 8 that makes these types of devices take off," he said.
At a lofty $1,200, Lenovo has its work cut out for it in marketing the product to a down economy.
"I think we'll see more devices like the Yoga emerge in the next few years. Consumers have consistently demonstrated their eagerness to carry fewer devices — look at the declining markets for dedicated devices like digital cameras, MP3 players, etc. — and that trend will extend to hybrid gadgets like the Yoga. As the tablet space moves beyond the iPad, the key for manufacturers will be combining business functionality with consumer appeal, and doing it at the right price," Gibbs concluded.