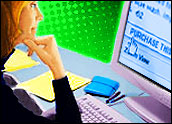 In a move to compete with Google's controversial book search service, LibreDigital on Tuesday announced a service of its own that allows book publishers to digitally capture and deliver controlled book content online.
LibreDigital, a division of NewsStand, said its Warehouse service makes it possible for publishers to bring their top titles to the Web, where consumers can search the entire content of a book and preview a percentage of its text and illustrations.
The ASP-based LibreDigital Warehouse solution is designed to streamline Internet distribution and partner management while both broadening the audience for books and helping to increase book sales.
"The world of bringing book content online is here to stay," argued Craig A. Miller, general manager of LibreDigital, whose firm aims to help those in the publishing industry find a balance between making book content easily accessible and ensuring that literary copyrights of authors are adequately protected.
Google's Digital Woes
While the Google Books Library Project digitizes books and makes collections searchable, the books involved to this point are from major libraries around the world, as opposed to mass market publishers.
The University of California, Harvard University and Stanford University are among those Google has wooed to its controversial concept, and the search giant has even launched a pilot project with the Library of Congress.
However, Google has been the target of two lawsuits since it launched its book search project last year. The Association of American Publishers and the Authors Guild both filed suit against the search titan, asserting that Google should seek the permission of copyright holders before digitizing books.
Doing It Right
Finding, aggregating and delivering high quality content of all kinds is part of Google's core business model. Making previous unsearchable content available gives Google a strategic advantage over competitors Yahoo and MSN Search, said Jason Dowdell, operator of MarketingShift, a blog focused on media research and technology.
"When Google indexes more content, it is also creating more revenue streams by increasing its inventory for AdWords advertisers," Dowdell told TechNewsWorld. "The more search result pages it has, the more places it can show targeted ads. An individual that does the same thing as Google, taking other people's data and reprinting it to display ads and generate revenue, is called a spammer."
LibreDigital is offering up an alternative to Google, Dowdell said. The company is just the first in what will be a long list of other vendors offering some form of book search, he contended.
Book Publishers Unite
LibreDigital's features include content digitization, automated tagging, digital rights management, digital content display, search, and page view control. The firm's framework doesn't allow right-click and copy-and-paste functionality, and clients may limit the types of Web sites they wish their content to be made available to. The firm will work directly with publishers to create custom distribution deals, like the one it has already sealed with HarperCollins.
"LibreDigital's service is an important tool for helping our authors, distributors and independent booksellers better market and sell titles on the Web, while giving us control over the permissions and presentation quality of copyrighted material," said Brian Murray, Group President, HarperCollins Publishers.