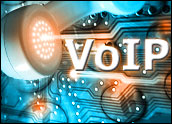 Linksys on Wednesday started shipping its WIP300 and WIP330 Wireless-G IP Phones. The phones are intended for use with Voice over Internet Protocol (VoIP) software over 802.11g wireless networks. The WIP300 and WIP330 mark the Cisco subsidiary's first attempt to peddle Wireless IP telephony products.
Both the WIP330 and WIP300 require a broadband Internet connection, a wireless router or access point with DHCP server, and activated VoIP service. The WIP300 sells for about US$220 while the WIP330 sells for about $370. Linksys plans to add products to its line of WiFi phones later this year.
"Voice over IP has clearly emerged as the future of telephone communication and Linksys is leading the way," said Tarun Loomba, director, product management, Linksys. "With the launch of our family of WiFi phones, we can take the technology to a whole new level."
Raising the Bar
The WIP330 features a 2.2-inch color LCD display and a built-in Internet browser. The browser can also be used to access Web-based e-mail, view Web sites or receive Internet-based video. The phone allows users to host three-way conference calls, put callers on hold, and view the number of incoming calls.
"People like those features," Robert Frances Group Senior Vice President Jerald Murphy told TechNewsWorld. "One of the nice things about using a service like [VoIP service provider] Vonage's is the fact that you are not getting nickled and dimed for every feature and function like you do with a classic landline phone. The fact that these features are bundled is one reason why people use those services."
The WIP330 can attach to wireless networks, including public hotspots that require user name or password access. Linksys boasts fast hotspot authentication, enhanced power savings, and support for SIP v2 standards and auto-provisioning. The phone is compliant with IEEE 802.11b/g standards.
Untethered Access
Linksys claims SecureEasySetup functionality on the WIP300 makes establishing a connection with a Linksys Wireless-G router as easy as pressing two buttons, one on the phone and one on the router. A secure WPA-encrypted connection is established that allows the user to make VoIP calls from within that network.
The WIP300 offers a 1.8-inch color LCD display, call forwarding, call transfer, call history, and a backlit keypad, along with suport for SIP v2 standards, compliance with IEEE 802.11 b/g standards, and a USB charger interface.
Murphy believes the phones will be well received by hard core VoIP users. "Certainly people who are going to use Skype and Vonage would want a phone that's wireless so they could go any place and use it. People don't want to be tethered to a specific location when using VoIP as they largely are today," he noted.
The Skype Connection
Late last year, Linksys hooked up with Skype to offer the CIT200, an Internet telephony kit that includes a cordless phone, charger and USB base station that plugs into a computer's USB port. The handset can read and display a caller's Skype contact list on its built-in illuminated display.
The new phones are different in that they work over wireless networks rather than a broadband connection, and users can choose any VoIP service to plug the phone into.