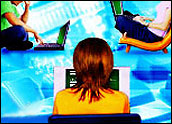 For those who can't resist chatting in the midst of a movie, Lycos Cinema is offering a way to help them express themselves — to folks who will listen.
Lycos on Monday unveiled a "watch and chat" video experience. Lycos Cinema brings the social networking aspect to movie consumption with its Screening Room platform. The Web 2.0 project combines video and chat in real-time. The company hopes it will change the way people watch movies on the Web.
"Our goal is to give users a totally unique viewing experience of high-quality video content they cannot find anywhere else," said Lycos COO Brian Kalinowski. "Viewing video online becomes much more engaging and enjoyable when you can create a social experience involving friends and family."
'The Next Evolution of Chat'?
Kalinowski proposed a shift from the flat, disconnected world of Web 1.0 to a world of social interaction around online video. He is boldly dubbing it the next evolution of chat.
Users can host their own Screening Rooms with Lycos Cinema and invite others to watch, which will include television, film and video content. Award-winning independent films like "The Champagne Club" and "Ants," contemporary underground cult films like "Born 2B Gangsta" and classic cult films like "Night of the Living Dead" are in the starting lineup.
The host controls the video experience. He or she can pause, rewind and fast-forward video streams, and chat with other Screening Room viewers.
Users can view profiles of other guests in the Screening Room audience and build buddy lists for future watch and chat sessions. Users may also congregate in virtual lobbies within the Lycos Cinema environment, browse lists of available screenings and converse with other users with whom they can watch and chat.
Working Both Sides of the Plate
Lycos is playing both sides of the screen: wooing viewers with its patent-pending technology, and digital rights owners, artists and content managers with the opportunity for immediate consumer feedback.
Content owners can release content to a VIP or general audience with direct interaction, providing screening and sampling opportunities, marketing and promotion, and the potential for new revenue streams, Lycos said. Content is securely wrapped in Microsoft's DRM technology via its Windows Media Rights Manager, to protect artists' rights.
Future product enhancements will allow users to rate, review, post questions and recommend content. Additional features will enable independent film producers and content providers to upload videos, while moderated chat capabilities make director, actor or subject-expert chats a reality.
In the coming weeks, Lycos said it would roll out additional platforms, including Lycos TV, providing streaming channels of pre-programmed broadcast quality content, and Lycos Video on Demand, allowing users to rent or purchase everything from Hollywood hits to long-tail, hard-to-find niche films.
Too Little, Too Late
Lycos is claiming to be first to market with its innovation, but Inside Digital Media Senior Analyst Phil Leigh said this is not the first time the concept has emerged.
AOL attempted to develop a watch and chat concept on AOL TV during the dot-com boom but the technology was not robust and the concept may have been ahead of its time. The social networking revolution had not yet arisen.
"Lycos will probably have some success with this. But if it is successful, it is going to be replicated by much more popular sites," Leigh told TechNewsWorld. "There's nothing here that's going to give them much of an edge over the long haul. It's too easy to replicate."
Lycos does have a patent-pending, but Leigh said that may not be enough to guard its position. He is betting there are numerous ways to integrate instant messaging into content delivery and someone like Google or Yahoo will find another way.
"This is an idea whose time has come, unfortunately for Lycos it's too easy for companies that have much more traffic to take advantage of it," Leigh concluded.