MakerBot last week unveiled its Digitizer desktop 3D scanner, a US$1,400 device that promises to accelerate the growth of 3D printing.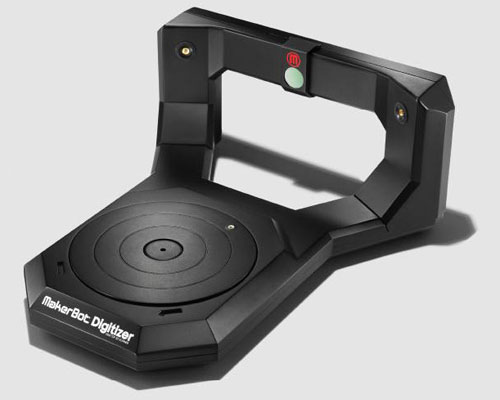 The Digitizer allows scanning of physical objects weighing less than about 6.5 lbs. When an item is placed on its turntable, the scanner points a pair of lasers at it, creating a 3D model. The whole process takes about 12 minutes.
Budget- and User-Friendly
The scanner's price point and ease make it appealing both to designers and hobbyists just getting interested in 3D printing, said Adam Cohen, principal consultant and CEO of Additive Insight.
In addition to the $1,400 Digitizer, users would also need a 3D printer — or at least access to one — if they wanted to build physical objects in addition to scanning them. However, it's still more affordable than similar products on the market.
That plus its user-friendly vibe suggest it could start to open up new markets for 3D printing, said Cohen.
"The MakerBot Digitizer is clearly marketed at consumers, and I like that it directly outputs STL files, which all 3D printers can accept," he told TechNewsWorld. "Also, one of the major obstacles to using 3D printing more is the need to learn CAD. To the extent that tools that obviate the need for traditional CAD come along, like this cheap scanner, that need is reduced."
The company began taking orders last week, and the Digitizer is expected to ship in mid-October.
Small and Colorless
The MakerBot scanner comes with certain limitations, though. For one, the scanner doesn't recognize color or shade — it can only capture the shape, Cohen pointed out.
Additionally, one of the most significant limitations is size, said Jesse DePinto, president, CEO and cofounder of Voxel Metric. There are handheld scanners already available in the market, albeit at a higher cost. They let users scan something as large as household furniture, which they could then print on a much smaller scale for a child's dollhouse, for instance. MakerBot's new device only works with objects that are small enough to fit on the scanner's turntable.
"Size is a huge limitation here," DePinto told TechNewsWorld. "If you're going to have a 3D scanner in the home, you don't want to be held back with size or shape — you want to be able to scan anything that is physically around you, even if it's bigger than 1 foot."
Along with other 3D-printing and scanning products that are just starting to make their way into small businesses or households, the Digitizer could face issues with intellectual property complaints, said Jesse Daily, partner at CORE Consulting.
"There are a lot of ethical issues here, the same kind of ones that the music industry started to face when everyone started downloading, trading and sharing MP3s," he told TechNewsWorld. "3D printing is going to face those same IP questions about ethical infringements, and also about liability. If a consumer makes a product and it breaks and causes harm, no one really knows who is going to be liable for that yet."
Opening Up the Market
Despite its limitations, the Digitizer is paving the way for 3D scanning to make its way into more mainstream households and businesses, said Voxel Metric's DePinto. MakerBot has a good shot at penetrating the consumer market here — and, more importantly, making the overall 3D ecosystem much more accessible.
"Scanning is really the next frontier in the 3D ecosystem," he noted, "and they're making an aggressive move with the price point and functionality in this device, allowing it to jump forward in the consumer market. Rather than a bunch of engineers or designers sharing a 3D printer and scanner, everyone can have their own, and there are a lot of applications that can come from that."