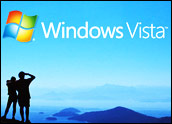 In a security industry battle that is heating up day by day, McAfee is alleging that Microsoft has failed to keep its end of a deal to cooperate with security software companies.
Microsoft promised the European Commission last week that it would alter its new Vista operating system to allow security software vendors to develop ancillary software. McAfee, however, is insisting that Microsoft is not complying.
Access Denied
The European Commission, which has given Microsoft fits over antitrust issues in recent years, recently recommended that the company make sure Vista complies with European Union competition rules before it launches.
Last week, Microsoft General Counsel Brad Smith made a public statement, saying, "We have made changes to ensure that we're in compliance with our competition law obligations, and we are moving forward to make Windows Vista available on a worldwide basis."
Vista is scheduled to be released next month to corporate users, but antivirus security vendors insist they are still waiting for Microsoft to grant access to some of Vista's core components.
Specifically, McAfee claims Microsoft has not cooperated in granting access to Vista's kernel so its developers can write Vista-compatible code. As it stands, Vista will launch with its own security features pre-installed.
Microsoft, however, has reportedly released Application Program Interfaces and maintains that by doing so it has complied with the European Commission's guidance. Neither Symantec nor McAfee returned calls seeking comment on the issue.
Profit Motive
Microsoft could not immediately be reached for comment. However, some security analysts are skeptical about the antivirus vendors' motives.
If antivirus vendors could find a way to avoid the hassle of having to write new code for Vista, they would probably take it, according to Russ Cooper, a senior information security analyst at Cybertrust.
"If the antivirus vendors are having a problem making their code function properly, then they should be telling Microsoft what their issues are," Cooper told TechNewsWorld. "They are threatened by the fact that Microsoft is going into the security business. They simply don't want to have Microsoft as competition so they are going to use every tactic they can to keep Microsoft from staying comfortably in that business."
McAfee, which has been the most vehement against Microsoft, may have a bad taste in its mouth after watching two of its key team members sign on with Microsoft.
Sour Grapes?
The software giant hired Vincent Gullotto, former head of McAfee's antivirus and vulnerability emergency response team, in August. Microsoft hired Jimmy Kuo, a former McAfee fellow, as a senior security researcher in September.
"It sounds like sour grapes to me," Cooper argued.
More retaliation from McAfee and many others in the security industry may be expected, he said, as these firms begin to feel threatened by the behemoth's sudden presence in their territory.
"Others may get on board with some antitrust-like statements in hopes of finding government officials willing to back them up and hold hearings to make a nuisance of themselves," Cooper concluded.