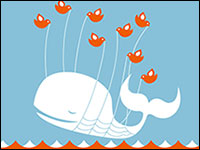 Twitter is back in action after a data center failure caused worldwide outages for many of its users Thursday.
Starting around 8:30 a.m. PT, Twitter users who tried to access the site were greeted with a partially coded message that read, "Twitter is currently down." It appeared that the note was supposed to let users know the reason for the outage and when it would be back, but only computer code appeared in those fields. Users reported outages worldwide — from North America to Europe, Asia, Latin America, the Middle East and Africa.
An outage within the social networking site's data centers caused the period of darkness, according to Mazen Rawashdeh, vice president of engineering at Twitter. An unlucky coincidental failure of two parallel systems almost simultaneously caused the worldwide outages, according to a blog post he wrote Thursday.
The issue was mostly resolved in about an hour.
Immediately after the outage, some tweeters speculated that the site couldn't handle the influx of tweets due to the summer Olympics getting under way in London. Even though the Olympics weren't the cause of Thursday's outage, the international sporting event is expected to set off a record flurry of tweets related to the games.
Rawashdeh wrote he wished that were the problem — or that it were another cascading bug like the one that caused a separate outage about a month ago — but that unfortunate outages in the data center were the only contributing factors to the site's dark period.
The team is investigating the problem to avoid similar mishaps in the future, he said.
Twitter declined to provide further details.
Just Another Day?
Temporary site blackouts aren't uncommon for Twitter. As it blossomed seemingly overnight from a startup to one of the world's most popular social networking sites, service failures were a relatively common occurrence for the rapidly growing company. Users came to know the infamous "Fail Whale," a depiction of a cartoon whale being hoisted by birds that the site sometimes runs when it is over capacity.
If those users haven't fled the site in mass outrage because of technical problems by now, they're probably not going anywhere soon, said Brent Csutoras, social media consultant.
"It has become such a normal thing with them overall to have periods of downtime, that it did not even register as odd today," Csutoras told TechNewsWorld on Thursday. "It was actually much shorter of a downtime than many of their previous outages."
For new users, though, the temporary outage could be confusing and a reason not to turn back to the site, however, said Brian Carter, Internet marketing expert.
"I think maybe if you're new to Twitter you wouldn't be used to it," he told TechNewsWorld.
Getting Tweets in Order
To make sure that new users don't flee every time there is a data center outage or a moment of overcapacity, Twitter should do everything it can to make sure those technical failures are fewer and further between, said Carter.
Now that the site has expanded and has enough analytic information about periods of heavy tweeting, the small glitches are a little more difficult to forgive, he said, noting it's especially important for Twitter to consider, when it has competition on so many fronts.
"It's kind of surprising for them to still have the issue now, unless it comes down to a lack of funds," said Carter. "It's a bit harder to give them a pass on it at this point. Facebook has glitches where functionality doesn't work temporarily, but their site is never completely down like Twitter's."