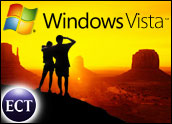 Microsoft on Friday changed its stance on a Vista security feature that has ruffled the feathers of antivirus vendor powerhouses in recent weeks.
Symantec and McAfee cried foul when they learned that the software giant was planning to block security software vendors' access to Vista's kernel, which developers need in order to build effective, compatible products.
The move would have potentially cost antivirus software makers millions of dollars in lost sales and could have essentially given Microsoft a security monopoly with Vista.
EU Concerns Emerge
Now, however, seemingly concerned over antitrust allegations, Microsoft is backing off from its stance. The company has agreed to allow third-party security vendors to access some of Vista's core components.
The outcry from antivirus (AV) vendors was apparently not Microsoft's only incentive for changing its course. European Commission concerns also drove the software giant's decision.
"We recognize that the European Commission does not give 'green lights' for new products, and we have not asked for one. We appreciate the constructive dialogue we have had with the commission and the guidance the commission has provided," said Microsoft General Counsel Brad Smith.
"Based on this guidance, we have made changes to ensure that we're in compliance with our competition law obligations, and we are moving forward to make Windows Vista available on a worldwide basis," Smith continued.
The Profit Motive
McAfee's was perhaps the boldest voice against Microsoft's planned AV vendor lockout. The company accused Microsoft of compromising security in Vista by disallowing third-party software.
McAfee representatives could not immediately be reached for comment on the turn of events.
This issue, though, may be less about security than it is about selling software, according to Michael Sutton, a security evangelist for SPI Dynamics.
"Microsoft's recent about face on this issue is not driven by a sudden change in their stance on security. It's driven by fear of further antitrust suits," Sutton concluded. "AV vendors have positioned this change in Vista as an effort to lessen competition as opposed to an improvement in security."