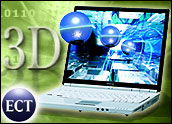 In a move to catch up with search rival Google, Microsoft on Monday added an online mapping interface to its Live Search offering.
Allowing users a more realistic Earth to explore online, Virtual Earth 3D compiles photographic images of cities and terrain to generate textured, photo-realistic 3D models with engineering-level accuracy.
"By helping people visualize information in far more useful and intuitive ways, Virtual Earth 3D takes search to an entirely new level," said Bill Gates, chairman of Microsoft. "The immersive 3D experience provides a more powerful and engaging interface that delivers better experiences not only for consumers, but also for developers and advertisers."
How It Works
People visit Live Search, type a query into the search box, and click the Maps tab. The application delivers search results in a map-based context, offering an option to explore the area using two-dimensional views — aerial and bird's-eye — or using three dimensional models with Virtual Earth 3D.
Initially, users can view three-dimensional models of 15 U.S. cities: San Francisco, San Jose, Seattle, Boston, Philadelphia, Los Angeles, Las Vegas, Detroit, Phoenix, Houston, Baltimore, Atlanta, Denver, Dallas and Fort Worth. Terrain imagery in 3D is available globally, and Microsoft expects to expand this offering over time.
Live Search also offers access to real-time traffic information in select major U.S. cities, as well as business and residential phone listings.
Advertising Potential
Microsoft's interest is simple: potential advertising revenues in one of today's fastest-growing search online categories. Adding features such as 3D will only help propel the category forward, said the company.
Microsoft will make advertisements available within Virtual Earth 3D. Similar to roadside billboards, virtual billboards can display ads throughout Live Search in its 3D view.
Three-dimensional technology opens a whole new set of experiences and potential applications," Greg Sterling, founding principal of Sterling Market Intelligence, told TechNewsWorld. "Anything you could do in flat space online you could do in a physical representation of an environment. There are many interesting possibilities, like social networking or e-commerce."
Building on 3D
Microsoft is offering APIs (application programming interfaces) so that developers can build applications on top of Virtual Earth 3D. Online games, travel sites, real estate sites, historical tours and "environmental hot spot" sites are a few of the possibilities, said Sterling.
"This is a different way to get information," he said. "In many cases, it's a much richer, more relevant way when location is involved. Visual information is far more engaging than text."
While the Google Earth vs. Microsoft Virtual Earth story is making headlines, the larger point here is the potential for a World Wide Web that is far more engaging than the one we search today, Sterling concluded.