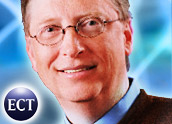 Microsoft Chairman Bill Gates today shared his vision of how the software industry can contribute to accelerating scientific research and engineering innovation during his keynote speech at Supercomputing 2005.
Of course, part of his vision includes the software giant's Windows Compute Cluster Server 2003, Microsoft's first product offering for high-performance computing. With the delivery of Microsoft Windows Compute Cluster Server 2003 Beta 2 today and general product availability scheduled for the first half of 2006, Microsoft said it will offer an HPC platform that accelerates the time to insight.
HPC Investment
Gates also announced an investment in 10 Institutes for High-Performance Computing (HPC) worldwide. Microsoft said this multiyear, multimillion-dollar investment in joint research projects at some of the world's leading research institutes will help guide the company's ongoing software research and product innovation to address the most challenging technical computing problems.
"Technical computing is crucial to the many discoveries that impact our quality of life — from making safer, more efficient cars and airplanes to addressing global health issues and environmental changes," Gates said.
"Moreover, most sciences are becoming computational sciences, which is why advanced computing capabilities need to be seamlessly integrated into the end-to-end scientific process. We see many opportunities to collaborate with the scientific community on innovative solutions that will accelerate the pace of insight and discovery."
Integrating With Existing Tools
To help ensure simple integration of Windows Compute Cluster Server 2003 with a broad set of applications and tools, Microsoft said it is working closely with software, application and hardware partners across the industry.
Microsoft is being joined in its booth at Supercomputing 2005 by 17 software partners and a number of hardware partners, including Dell, HP, IBM, NEC Corp., Orion Multisystems Inc., Tyan Computer Corp. and Verari Systems Inc., to demonstrate 20 industry-specific HPC applications.
As part of this effort, Microsoft said it is working with Intel to provide software vendors with a robust set of resources — including 64-bit hardware, software and tools from both companies, and joint on-site engineering assistance — to enable broader application support on Windows Compute Cluster Server 2003 when it is released to the market.
Microsoft is also working with software partners across the manufacturing, life sciences and geosciences, and other industries to make a robust set of commercial applications available on Microsoft Windows Compute Cluster Server 2003.
Money-Making Opportunity
Chris Alliegro, Lead Analyst at Directions on Microsoft, told TechNewsWorld that there is a clear financial opportunity for Microsoft in the super computing arena. The company, he said, has core foundation technologies that, if positioned correctly, could be of significant interest to the scientific community.
"It's more than just an opportunity to modify the Windows operating system to support a fairly niche computing architecture," Alliegro said. "It's an opportunity to leverage its investment in the operating system, in data formats, XML, database, data aggregation, data analysis, and put together a compelling story for the high performance computing universe."
Should the Linux camp be worried? Alliegro thinks so. That, he said, is because Microsoft paid respect to the fact that the super computing environment is heterogeneous and the company is going to have to interoperate with Linux machines.
"Microsoft acknowledged the fact that the scientific, academic and research community to a large extent are leaning toward low-cost solutions like Linux," Alliegro said. "So Microsoft knows it can't come in with a pitch for its proprietary operating system and its proprietary protocols versus Linux. They know that would turn a lot of people off."