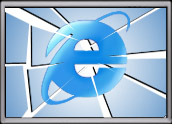 Microsoft celebrated the demise of Internet Explorer 6 on Tuesday after usage estimates put the Web browser's marketshare at under 1 percent in the U.S.
Microsoft was as happy as anyone to see the browser go. The company has been running a kill campaign for IE6 for years, with Microsoft executive Amy Bazdukas stating in 2009 that "friends don't let friends use IE6," and launching a deathwatch website for the browser last March.
A blog post Tuesday announcing the browser's death ran with picture of a cake that read, "Goodbye, IE6!" and invited users to make 2012 resolutions to switch to the updated versions of Microsoft browsers like IE9.
The company didn't respond to our requests for comment beyond the blog post.
"I believe Microsoft when it says it's happy to see IE6 fade. There was a lot of inertia at companies, some of whom had built apps around now-outdated browser programming conventions, and IE6 is and old, tired product," David Card, research director at GigaOM Pro, told TechNewsWorld.
The U.S. took longer than Microsoft would have liked to join countries like Austria, Poland, Sweden, Denmark, Finland and Norway in its dip below 1 percent of the market, but China is still holding onto the program. Net Applications estimated that China has the highest percentage of remaining IE6 users, reporting that one in four Chinese computers runs IE6.
Another metrics firm, StatCounter, had slightly higher numbers for U.S. IE6 usage, giving it 1.8 percent of the market last month, although Net Applications weighs international data differently than StatCounter.
Microsoft has indicated it plans to continue to ween users off IE6 and even IE7, which only has about 4.8 percent marketshare. The company has announced it will automatically upgrade those systems to IE8, first in Australia and Brazil and then in additional countries later in the year.
Wearing Out Its Welcome
IE6 was able to linger for a while despite its own creator's efforts against it due in part to users who were unwilling or unable to upgrade on their own. Unlike more modern browsers, updating IE6 was a manual process that could scare off less tech-savvy users.
"Compare that to Google Chrome, which silently updates itself all the time with no explicit action required by the user. Almost no one is running an old version of Google Chrome, by design. Microsoft and Firefox are now moving to this silent automatic upgrade design. When users are on the latest versions, they have access to the latest features and are automatically protected from security holes as they are fixed," Jason Huggins, CTO and cofounder of Sauce Labs, told TechNewsWorld.
Enterprise users also counted for much of IE6's marketshare, and with restraints such as budget restrictions or stubborn front offices, it can be tougher for large companies to make the switch, especially after they may have invested heavily in IE6 when it was still a fresh product.
"With strained budgets, few organizations wanted to upgrade their sites to support multiple browsers. Also, some organizations heavily locked down on their employees' workstations, preventing them from upgrading or installing other browsers. Users would have to wait until IT tested and deployed a new version of IE across the entire organization. In very large organizations, large upgrades happen rarely," said Huggins.
Learning From Competition to Go Forward
That attitude is changing among corporations, however. As mainstream consumers become more in tune with the need for software updates and re connected on a variety of devices, businesses interacting with multiple systems and clients across the globe could no longer rely on the browser.
"When everything was in a controlled environment, only used by [a] company's employees, IT could dictate what they were willing and unwilling to support. Today, many IT organizations support Web applications served over the public Internet. Now, more importantly, customers and suppliers, not just employees, access these. With customers, a 'we only support IE6' policy would mean lost sales from potential customers accessing the site from their new Windows machine, BlackBerry, Android device, iPhone, iPad or Apple laptop," said Huggins.
With IE6 virtually out of the picture, Microsoft will have a chance to push its newer browsers, but much tougher competitors exist since IE6 made its debut in 2001. Since then, Firefox has emerged, and more recently Google's Chrome has become a market leader. Microsoft is taking cues from its rivals in a few ways, one being the automatic update release.
"While IE is still the leader, Chrome has all the momentum," said Card.