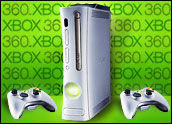 Microsoft on Monday announced content partnerships that will transform the Xbox 360 into an on-demand IPTV device.
The software giant inked deals with CBS, MTV Networks, Paramount Pictures, Turner Broadcasting System, Ultimate Fighting Championship, and Warner Bros. Home Entertainment. An initial lineup of over 1,000 hours of TV shows and movies will be available to U.S.-based Xbox 360 gamers by the end of 2006.
This makes the Xbox 360 the first gaming console to offer standard- and high-definition TV shows and movies via digital distribution over the Internet. However, Sony may be breathing down Microsoft's neck in the race to control back-of-the-TV inputs on HDTV sets.
Coming to An Xbox Near You
Gamers can purchase TV shows and rent movies via download from the Xbox Live network, Microsoft's online platform for distributing high-definition content.
The initial lineup of TV shows and feature films includes "CSI," "Survivor" and "Star Trek" from CBS; "South Park" from Comedy Central; "The Real World" from MTV; and "The Matrix," "Superman Returns" and "Batman Forever" from Warner Bros. The latter company, in particular, has aggressively pursued this distribution strategy.
Reaching the Target Market
The Xbox 360 is a powerful system that will allow viewers who don't have a digital set-top box with cable to get popular television and movie content, Envisioneering Group Analyst Richard Doherty told TechNewsWorld.
"The general demographic for the Xbox 360 is a teen, college student or young adult," Doherty noted. "This is an incredible alternative delivery mechanism at similar prices to the set-top box universe that reaches that demographic."
Microsoft's Preemptive Strike
As Sony prepares to launch its next-generation gaming console — the PlayStation 3 (PS3) — on Nov. 17, Microsoft is clearly taking a preemptive strike with news of IPTV on-demand and the content deals. However, Microsoft knows that Sony's new system will offer something the Xbox does not: digitally secure outputs and much more storage capacity.
"You can be sure that Sony will start announcing content deals somewhere between November 17 and the next computer game developer conference — and their hard discs tend to have more storage space," Doherty said.
An HDTV Battle
For all the talk about Blu-ray and HD-DVD — competing standards for next-generation DVDs — Microsoft's announcement demonstrates that there is another HDTV war quietly brewing on the gaming front.
"IPTV on-demand is an important battle right now for Sony and Microsoft because sometimes there are only a few inputs on a high-definition TV," Doherty explained. "The game system that gets to that input tends to stay there. Xbox is trying to get ahead of the PS3 so that Sony finds those inputs blocked."