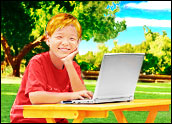 As part of its new "Live" branding strategy, Microsoft is reportedly beta testing a new Web-based service designed to help parents manage their children's computer use to improve their safety.
Microsoft announced the service, dubbed Windows Family Safety settings, in January. Part of Windows Vista, the service includes parental controls that allow parents to create accounts specifically for their children.
Focusing on Safety
In today's world of increasing connectivity and computing demands, Microsoft Chairman Bill Gates said it is essential to provide customers with a more secure and responsive experience.
"Windows and the consumer electronics industry are changing dramatically," Gates said. "People live in a world with more digital content and information than ever before. Windows Vista will make personal computing more useful, powerful, connected and fun, redefining how we live, work andplay."
To that end, Internet Explorer in Windows Vista will offer better protections against malicious Web site operators and help prevent users from becoming victims of phishing.
Windows Vista will also help protect computers against the latest generation of threats such as worms, viruses and spyware and tune itself to maximize performance for how specific individuals use the computer.
Protecting Children
Windows Family Settings is part of Gates' focus on security.
The Web-based service allows parents to create settings so PC accounts cannot gain access to sites featuring pornography, alcohol or bomb making, according to a screen shot of the new services posted by Microsoft-watcher blog Liveside.net.
Parents can even create content filters and view activity reports of where their children have been online. Of course, Microsoft has already offered parent control services through its MSN client. How is this different?
Enhancing an Old Idea
In a sense, Windows Family Settings is not an original idea, said Jupiter Research Analyst Joe Wilcox, in another sense it is a new idea because of its wider distribution.
"Microsoft is introducing a number of disparate properties, including MSN Spaces," Wilcox told TechNewsWorld. "Microsoft is going to put in place parental controls that have greater breadth and will make some enhancements to the service as well."
Does Anybody Care?
The question is, do consumers really want this capability? Only four percent of consumers haveparental control software installed on their computer from vendors like Cybersitter, Kidswatch and PC Tattletale, according to Jupiter Research.
What's more, Jupiter reports only 25 percent of consumers regularly use parental control software provided by their ISP. Neither of those figures demonstrate tremendous interest in parent control software.
Nevertheless, Windows Family Settings is one component of Microsoft's new Internet-based software services and Microsoft is pushing forward to its yet undisclosed release date.
Going Live
As part of its "Live" branding strategy devised to compete with Google and Yahoo's use of the Internet as a delivery platform for hosted services, Microsoft plans to roll out Windows Live and Office Live, along with Xbox Live, this year.
Windows Live is a set of personal Internet services and software designed to bring together in one place all of the relationships, information and interests people care about most, with more safety and security features across their PC, devices and the Web.
Office Live is a new set of Internet-based services for growing and managing a business online. Specifically, Office Live is designed to help companies establish an online presence, automate key internal and external business tasks, and collaborate with employees, partners and customers.
Both services are scheduled to roll out in beta early this year.