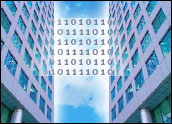 Microsoft is beating the WiFi drum in a pilot project designed to push MSN content and services to wireless users — and to generate advertising revenue.
Following in search rival Google's footsteps, the software giant on Wednesday inked a deal with MetroFi to publish its content over MetroFi's WiFi network in Portland, Ore.
The free Internet service is expected to launch later in 2006 and, when completed, cover 95 percent of the city. Portland is Oregon's largest city, with a population of more than half a million.
The WiFi platform is more "inclusive, ubiquitous and flexible for both consumers and advertisers," said Sam Klepper, general manager at Microsoft's MSN Media Network Group, hinting at the possibilities of monetizing the free network.
WiFi Build-Out
MetroFi will operate the Portland WiFi network, which is modeled on the wireless broadband networks it built and currently operates in several California cities: Foster City, Cupertino, Santa Clara, Sunnyvale, downtown San Jose and Concord.
As in other communities, the Portland MetroFi network will transmit data via access points mounted on streetlight poles throughout the city. WiFi-enabled users will access the network at broadband-like speeds — up to 1 Mbps downstream bandwidth and as much as 256 Kbps upstream.
All About Advertising
Under the deal, the WiFi network will be coupled with a suite of Microsoft-designed Internet services to help users find Portland-centric information. The network will rely on Microsoft's adCenter platform to help advertisers reach local WiFi users.
"Microsoft's support of the Portland network further reinforces the validity of advertising-supported municipal WiFi," said Chuck Haas, CEO and cofounder of MetroFi.
Not everyone agrees with Hass's assessment, though.
Advertising-supported models are emerging to cover the cost of citywide deployments, but that model has yet to be proven despite Google's recent investments — for example, it spent US$1 million on a WiFi network in its corporate hometown of Mountain View, Calif., in August 2006.
Collecting Corporate Sponsorships
Ad-supported models may not be a winning approach in the long term, claimed Craig Settles, president of Successful.com and an independent WiFi analyst.
Corporate sponsorships, such as Nokia's support for expanding WiFi networks in select Manhattan boroughs, are a more probable funding scenario, Settles told TechNewsWorld. The bottom line is that someone has to pay — and pay big — for those deployments, he added.
"Everyone wants to get something for free, but there's a lot of downside with the whole free concept. Cities should be aware of the complexities of building out a WiFi network," said Settles. "Cities may need to turn over ownership to a private company rather than trying to find ways to fund these networks."
WiFi Awareness
Major WiFi deals, ad-sponsored or not, generate awareness of the technology and, if successful, can bring credibility to the concept, Settles explained.
For instance, St. Cloud, Fla., launched a free WiFi network earlier this year, and similar networks are underway in Philadelphia, Chicago and New York City.
The Yankee Group expects spending on these networks to increase from less than $50 million in 2005 to more than $150 million in 2006. As WiFi becomes an important vehicle for providing Internet access to rural areas, that number is likely to swell.