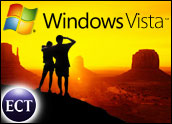 Following Microsoft's Friday release of Windows Vista Release Candidate 1 (RC1), the software giant on Tuesday announced plans to make the software available for broad customer and partner testing.
Microsoft will reopen the Customer Preview Program (CPP), its pre-release testing program, to new enrollments this month. Windows Vista's final release is expected for volume license customers in November 2006 and for general availability in January 2007.
"Unlike an Apple product where you don't get a chance to see it in all its glory until it reaches its final form, Microsoft has to give all sorts of warnings to its corporate customers, so we miss out on the surprise part," Enderle Group Principal Analyst Rob Enderle told TechNewsWorld. "The surprise will have to come with the hardware when it shows up in the first quarter of next year."
Vista Pricing Confirmed
Last week, Microsoft said it was premature to announce Vista pricing until RC1 was released. Amazon.com had posted pre-sales of the operating system with prices comparable to the XP version.
This week, Microsoft confirmed estimated retail pricing for all editions of Windows Vista for both business and consumer users. The prices are in line with Windows XP editions, with the prices of some editions constant since Windows 95.
With Windows XP, customers often had to make tradeoffs in features and functionality as the Windows XP editions were aligned with specific hardware types, Microsoft admitted. With Windows Vista, customers can choose between editions based on the features they desire. For example, 64-bit support and Tablet PC and touch technology are standard features of the Home Premium and Business editions.
Kicking Vista's Tires
With the release of RC1, the product specs are locked down. Microsoft is just looking for any deal killers it might have missed during beta testing, according to Enderle. RC1 releases are the last quality check before mass rollout, he said.
"RC1 offers fairly strong improvements from the last beta drop. It feels like a complete product now. It is relatively stable," Enderle noted. "I think most of us are finding, as we have with other new operating system drops, that the best path will likely be to install the software on new hardware."
While it's easy enough to upgrade from XP to Vista, analysts report that existing applications running in Windows XP compatibility mode could suffer performance or security penalties. In other words, by upgrading, users may miss out on some of the Vista protections, benefits and performance enhancements.
Broadening the CPP
Microsoft is broadening the scope of the Windows Vista CPP, which began last quarter with the release of Windows Vista Beta 2. The CPP enables developers and IT professionals who do not have access to Windows Vista RC1 through other channels to obtain the code and begin testing.
Also as part of the CPP, technology enthusiasts are able to obtain pre-release code and begin testing the various consumer scenarios Windows Vista enables. Current CPP participants are scheduled to have access to the RC1 code beginning this week, and Microsoft will be opening the CPP program to new participants in coming days as well, the firm said.