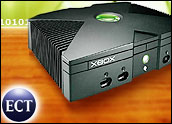 Microsoft has partnered with Samsung Electronics in a high-definition technology alliance intended to take gaming to the next level. Microsoft announced Samsung as its worldwide marketing partner for the next-generation Xbox yesterday.
The Xbox/Samsung HDTV combination is designed to deliver the most advanced and realistic high-definition experience to gamers worldwide. To promote the HD era, the companies plan to place over 25,000 Samsung high-definition televisions in Microsoft Xbox retail kiosk locations across the globe.
"Samsung is a natural partner to showcase the richness of the next-generation Xbox," said Peter Moore, corporate vice president of Worldwide Marketing and Publishing for Xbox at Microsoft. "Samsung HDTVs will provide Xbox enthusiasts with the truest high-definition gaming experience available."
Competing with the Box Office
A wide variety of visual display screen sizes and technology platforms from Samsung, including LCD, Plasma, Micro Display — DLP and Slim Fit HDTV CRTs, combined with the new Xbox console will give gamers unprecedented realism and intensity in their gameplay, according to Microsoft.
Why all the hoopla about high-defintion gaming? Consumers spend more on video games than they do at the box office on feature films.
Gamers spent US$13.9 billion on consoles and console or PC games in 2003, a 4.8 percent increase, according to market research firm IDC.
That's more than the $9.2 billion in U.S. ticket revenue collected by movie studios lastyear.
The Future Is Coming
Park Associates analyst Michael Cai told TechNewsWorld that although the alliance is merely a marketing move, it's a smart marketing move considering the growing adoption of HDTV and the five-year lifespan of video game consoles.
"HDTV services are picking up," Cai said. "Gamers, who are always the early adopters for any new technologies and services, would definitely be interested in seeing that high definition quality for their electronic games. Microsoft is looking to the future. PlayStation should also have HDTV in mind."