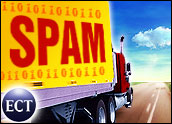 Riding on the back of the second annual E-mail Authentication Summit in Chicago, Microsoft on Tuesday claimed rapid adoption of its Sender ID framework for e-mail authentication to fight spam. It also launched improved postmaster services for consumers.
There has been a threefold increase in Sender ID adoption among Fortune 500 companies, increasing from 7 percent in July 2005 to 21 percent in March 2006, according to MarkMonitor data. More than 3.3 million domains worldwide are now sending Sender ID-compliant e-mail, MarkMonitor and VeriSign report, with approximately 2 billion e-mail messages from known, legitimate senders are sent each day globally.
"Companies of all sizes are realizing the significant business value of e-mail authentication and reputation services to improve e-mail deliverability and help protect their brand identities," said Craig Spiezle, director of the Technology Care and Safety Group at Microsoft. "In particular, businesses are adopting Sender ID because it requires few if any changes to most e-mail systems, and typically there are no hard costs or additional software required to implement it, making it simple and cost-effective."
Avoiding Controversy
Sender ID works by verifying the domain name from which e-mail is sent by checking the Internet Protocol (IP) address of the server that sent the message against a published list of legitimate IP addresses for the domain the message claims to be from. Sender ID was created through industry collaboration with Microsoft.
"SenderID is quickly becoming a de facto means for e-mail communication. It's certainly not the only one. There are a number of for-fee organizations, like Goodmail, providing reputation services," Maurene Caplan Grey, founder and principal analyst Grey Consulting, told TechNewsWorld. "Sender ID does not raise red flags with consumers like Goodmail did because there is no exchange of funds."
Enhanced Postmaster Services
Microsoft also launched an enhanced MSN Postmaster Services program designed to help e-mail senders and Internet Service Providers (ISPs) better manage their outbound e-mail infrastructure.
Evolving from an early beta that launched last year, MSN Postmaster Services allows e-mail senders to learn about Microsoft's e-mail filtering and protection technologies and best practices for helping ensure that legitimate e-mail can reach MSN Hotmail customers.
It also intends to help e-mail providers that are looking to improve their e-mail deliverability rates better troubleshoot their outbound e-mail issues by providing information about e-mail traffic coming to MSN Hotmail and Windows Live Mail Beta from their systems, such as customer complaint reports.
The Fight Against Spam
"During the past five years, Microsoft has invested substantial resources into designing and implementing various technologies and services designed to reduce the threats of unsolicited mail and to thwart potential spammers," said John Scarrow, general manager of the Technology Care and Safety Group at Microsoft. Scarrow said this is a continuation of that effort.
Indeed, Microsoft has been at the forefront in the fight against spam, filing lawsuits, working with legislators and implementing technologies to protect its MSN e-mail users. Ultimately, analysts said the Sender ID framework and the Postmaster Services are two more tools in Microsoft's arsenal.