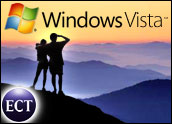 Microsoft said it would release six different flavors of its Windows Vista operating system, scheduled for rollout in the second half of 2006.
The Windows Vista product lineup consists of two versions for businesses, three for consumers, and one for emerging markets, the software giant said. The products have been dubbed Windows Vista Business, Windows Vista Enterprise, Windows Vista Home Basic, Windows Vista Home Premium, Windows Vista Ultimate and Windows Vista Starter.
Each product in the lineup is tailored to meet specific needs of different user groups — home PC users, small and medium-sized businesses and the largest enterprises — and looks to bring 64-bit, Media Center and Tablet PC functionality into the mainstream, according to Microsoft.
"We live in a digital world that is filled with more information, more things to do and more ways to communicate with others than ever," said Mike Sievert, corporate vice president of Windows Product Management and Marketing at Microsoft. "The PC needs to give people the clarity and confidence to handle this 'world of more' so they can focus on what's most important to them."
New User Interface
Microsoft will kick off its customization effort by targeting businesses with a new user interface called Windows Aero. The interface will be available not only with Windows Vista Business but with all six Vista versions, though consumer versions will have fewer features.
Windows Aero will provide a professional looking design, with subtle effects features such as dynamic reflections and smooth animations, along with Windows Flip and Flip 3D desktop navigation features, according to Microsoft.
In addition to these navigation improvements, Windows Vista Business integrates search throughout the operating system and provides new ways to organize files in effort to help businesses manage huge volumes of business documents.
Windows Tablet PC technology in this version provides built-in handwriting recognition and enables interaction with the PC with a digital pen or fingertip instead of a keyboard.
Serving the Enterprise
Windows Vista Enterprise is designed to significantly lower IT costs and risk, Microsoft said. In addition to all the features available in Windows Vista Business, Windows Vista Enterprise is designed to provide higher levels of data protection using hardware-based encryption technology.
It will also include tools to improve application compatibility and will enable organizations to standardize on a single worldwide deployment image with the inclusion of all Windows user-interface languages.
Choices for Consumers
As for individual consumers, they can choose from three Vista versions: Basic, Premium and Ultimate.
For consumers who just want to browse the Internet, e-mail friends and family or perform basic word processing tasks, Windows Vista Home Basic may be sufficient. It will provide new tools and technologies such as a new Search Explorer, Sidebar and Parental Controls.
Meanwhile, Windows Vista Home Premium is designed to enhance mobile or desktop PC functionality while enabling digital entertainment experiences. This version includes everything in Windows Vista Home Basic, along with Aero, integrated search and DVD burning, Windows Media Center technologies and Windows Tablet PC capabilities.
Windows Vista Ultimate brings together all the entertainment features, mobility features and business-oriented features available in Windows Vista.
Microsoft will also offer Windows Vista Starter in emerging markets. A 32-bit operating system designed specifically for lower-cost computers, Windows Vista Starter enables beginner PC activities and provides a more affordable entry point to the Windows Vista family of products.
Dissecting the Vista Strategy
Analysts are already weighing in on Microsoft's Vista strategy, if not the actual product functionality. Some believe it's a brilliant idea, others see a challenge that will take strategic marketing to overcome.
"Windows Vista is going to be a significant release for all Windows customers, including enterprises, small and medium-sized businesses as well as consumers," said Al Gillen, research director for System Software at IDC.
Gillen believes the strategy to address different customer segments with versions of Windows Vista optimized for their needs should be well received by these diverse user segments.
The marketplace will ultimately judge, said Jupiter Research Analyst Joe Wilcox. Microsoft's challenge with the Vista strategy is the evolution in the way people use computers, he noted, pointing to workers who receive calls and e-mails at their home computer, but still respond as husband and father when children come into the room. Thus, uses for the same machines might change rather quickly on a regular basis.
"Your location doesn't change, so role is defined by context," Wilcox told TechNewsWorld. "Microsoft's challenge is to adequately meet those different contexts. Much now will come down to Microsoft's marketing efforts and how it demonstrates the contextual value around the different versions."