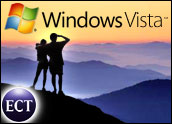 Customers looking to buy new PCs this holiday season can enjoy a special gift from Microsoft — discounted or free copies of the Vista operating system and Microsoft Office 2007 productivity suite.
Microsoft on Tuesday announced programs to provide holiday shoppers with low-cost upgrades with the purchase of a new Windows Vista-capable personal computer.
The software giant is working with computer manufacturers and system builders that plan to sell PCs loaded with Windows XP or pre-installed with 2003 Microsoft Office software to make the Express Upgrade to Windows Vista and Microsoft Office Technology Guarantee programs available from Oct. 26, 2006, through March 15, 2007.
A Vested Interest
"Let's face it. It's in Microsoft's best interest to make sure that the PC market doesn't tank in the fourth quarter. If the PC market has a slow down that affects Microsoft, too, because Microsoft doesn't sell any operating systems unless the customers are buying PCs. Obviously Microsoft has a vested interest in seeing the market be sustained through that period," IDC analyst Al Gillen told TechNewsWorld.
Indeed, but Microsoft may have to wait for its pay day. The software giant said it expects to defer US$1.5 billion in revenue from the current quarter to the January-March quarter as a result of the program and pre-shipments of Vista and Office 2007. However, it expects no impact to fiscal 2007 revenues.
PC Makers Participating
Neither PC makers nor analysts are surprised by Microsoft's holiday specials.
"You've got to look at the history. Microsoft has done this with the last couple product releases. This is not a new concept and generally speaking it helps reduce the amount of buyer hesitation," Gillen said.
A number of computer manufacturers, including Dell, Hewlett-Packard and Gateway, have confirmed plans to participate in the Express Upgrade to Windows Vista program. PCs carrying the Windows Vista Capable logo may be eligible for the program, but upgrade offers will vary from free to discounted depending on the PC maker. Microsoft declined to share details of its agreements with PC makers.
Defining the Discounts
Microsoft will also be working with smaller PC makers, known as system builders, to provide customers with upgrade discount coupons. The offer will vary from region to region.
In the U.S. upgrades from Windows XP Media Center Edition 2005 to Windows Vista Home Premium, and upgrades from Windows XP Professional, Windows XP Tablet PC Edition and Windows XP Professional x64 Edition to Windows Vista Business and Windows Vista Business 64, will be offered for a nominal fee.
Upgrades from Windows XP Home Edition to Windows Vista Home Basic and to Windows Vista Home Premium will be offered at a 50 percent discount from the boxed product upgrade price, plus the cost of shipping and handling.
Will It Work?
The discounts may be a non-issue for business customers. Most corporations won't deploy Vista out of the box. IT departments must put the software through extensive compatibility testing before deploying it company-wide. It may, however, give consumers an incentive to buy now rather than later.
"Consumers who purchase a new machine are going to want to get the new operating system," Gillen said. "This way they can buy a machine in December and feel like they are still going to get the new operating system."