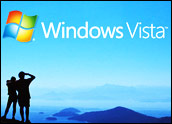 Microsoft on Friday rolled out Windows Vista Release Candidate 2 (RC2), the new version of the Windows operating system, to technical testers with a pledge to make the final Vista version publicly available soon.
Vista Build 5744 is expected to be the last interim release before the software is approved for manufacturing. However, the same was said about RC1.
Microsoft told technical users in early September that Build 5600 would be the sole RC, but changes led the company to issue the second candidate for complete testing.
"I would have been shocked not to see a Release Candidate 2," JupiterResearch analyst Joe Wilcox told TechNewsWorld. "I expect Microsoft will release another build or two to its internal testers. It's pretty typical for there to be a few release candidates."
Major Improvements
There are thousands of quality improvements in Windows Vista RC2, Microsoft platforms group co-president Jim Allchin's claimed in his message to testers Friday. Allchin urged testers to keep reporting bugs.
"We are just around the corner from RTM (release to manufacturing) and shipping this great product to the world, so please keep the feedback coming so we can hit the finish line," he wrote.
The finish line is within sight. Microsoft is still planning to release Vista to business customers in November and to retail consumers by late January.
On Time, On Budget?
The final delivery date, though, will ultimately depend on the product's quality, according to the company. If testers find major bugs in the program, the RTM will be delayed.
Last week, Rick Sherlund, a Wall Street analyst from Goldman Sachs, predicted Vista would hit its release dates and should ship in line with Microsoft's targets.
There is still some skepticism that Vista will be released on time, however — and perhaps it's justified. Microsoft has been developing Vista for five years, and its release has been postponed several times during that period.
There are at least two possible avenues of delay for Vista at this stage. The first potential delay is one or more show-stopping bugs. The second is enterprise customers' negative reaction to a feature that Microsoft could either change or remove.
"Let's say hypothetically that a significant number of large customers came to Microsoft and said feature X makes it necessary for them to undergo an additional 12 months of testing before they can deploy. Microsoft may want to reconsider feature X before releasing," Wilcox said.
The Cost of Waiting
So far, the delays have led to lost near-term revenues for the software giant. Windows accounts for about 30 percent of the company's US$44 billion in revenue. At its last financial analyst call in July, Microsoft said an additional delay would have a monetary impact of $200 million to $400 million.
"The impact of another delay on Microsoft's partners is somewhat minimized by the timing," Wilcox noted. "Once you've missed the holiday sales cycle, it's like feast or famine. The feast is the end of November to December 25 and the famine is the first three months of the year. January could easily be April without causing a disastrous impact to the partners."