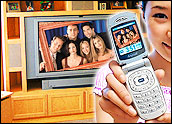 In yet another step toward mobile TV mainstreaming, British Telecom Group, Virgin Mobile and Microsoft are expected to announce a partnership on Tuesday at 3GSM in Barcelona, the largest mobile phone industry conference of the year.
While other companies will be launching new mobile handsets, this transcontinental trio is expected to launch Europe's first nationwide digital television broadcast service for mobile phones.
Virgin Mobile is reportedly preparing to launch the TV service to subscribers by the middle of 2006 after a successful four-month trial last year. At least five TV stations are expected to come online as part of the initial roll-out, along with a number of radio channels.
British Telecom offers the service, which was developed in connection with Microsoft, on a wholesale basis. The new service is a spin-off of commercial digital broadcast technology that Korean mobile users saw introduced last year.
Mobile Momentum
Mobile TV is gaining momentum, at least among handset manufacturers, entertainment entities and wireless technology providers. In late January, Motorola, Nokia and Intel, among others, formed the Mobile DTV Alliance.
That group announced support for Digital Video Broadcasting — Handheld (DVB-H), an open procedure standard for broadcast digital-TV reception on mobile devices.
Just a few weeks prior, Qualcomm conducted a live demonstration of its mobile TV FLO Technology with Samsung Electronics.
FLO Technology, a multicast innovation and key component of Qualcomm's MediaFLO System, is an air-interface system designed to increase capacity and coverage, while reducing the cost of delivering multimedia content to mobile handsets.
Content Providers Ready
Content providers are also ready for the rush. Cable movie channel Starz last month announced a video download application and service for broadband. Dubbed Vongo, the service delivers movies and other video content over the Internet for playback on Windows-based PCs, laptops and select portablemedia devices, as well as TVs.
In December, Cingular Wireless became the latest provider to announce on-demand streaming video. Cingular Video debuted with a partnership with HBO and promises viewers personalized access to high-quality clips on high-speed capable phones.
Verizon (NYSE: V) beat Cingular to the punch with a CBS Television deal. V Cast now streams some of CBS Television's most watched programs, including "CSI," "Survivor," David Letterman and "Entertainment Tonight."
Virgin Mobile's Play
Virgin, Microsoft and BT are tapping into the BBC and British Sky Broadcasting to bring content to its venture. Virgin has an advantage with British Telecom because its services will run over the telecom's nationwide digital audio broadcast network. Competitors Orange and Vodafone have runinto challenges streaming over self-owned, third-generation networks.
The movement toward mobile TV continues, but are audiences really ready for the revolution? There may not be a hunger, but there is a huge latent demand, according to Inside Digital Media Senior Analyst Phil Leigh. He compared mobile TV to the emergence of the iPod.
Space-Aged Goggles?
"Hunger means that we couldn't live without it. That's not the case. If the iPod had never been invented we could still live without it, but there was no doubt a huge latent demand for it," Leigh told TechNewsWorld.
"Ultimately we'll get to the point where we are wearing goggles with video screens in them," he added. "When we plug those in we will have an immersive cinemascope effect about an inch away from our eyeballs. We'll do that while we are on the subway or the airplane. It's going to be a step-by-stepprocess."