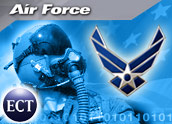 In what marks one of the world's largest single enterprise-level implementations, the U.S. Air Force has entered into a multi-year agreement with Microsoft that could bring the software maker more than US$500 million in revenues over a six-year period. Dell is also a winner.
Microsoft will provide core server software, maintenance and upgrade support, while Dell will supply more than 525,000 Microsoft desktop Windows and Office software licenses for the Air Force.
Part of the service's One Air Force, One Network initiative, the agreement is intended to simplify the acquisition process while meeting demands for stringent enterprisewide cybersecurity requirements, timely distribution of software updates and enterprise configuration management.
Linux Implications
Rob Enderle, principal analyst at the Enderle Group, told TechNewsWorld this is a big win for Microsoft in its battle against Linux.
Ever since the Institute of Internal Auditors Research Foundation (IIA) report titled "PC Management Best Practices: A Study of the Total Cost of Ownership, Risk, Security, and Audit" was released in September, Microsoft has been poised to gain the momentum that Linux was seeking in the public sector market.
"This Air Force contract validates Microsoft's argument that when everything is taken into account, Windows is actually more secure than its open-source counterparts," Enderle said.
"There has been a great deal of difficulty finding a Linux distribution that meets the standards that are now being culled out by the IIA," Enderle explained.
According to the IIA, for example, any platform that does not have automated patch management is seen as non-compliant and an unacceptable risk.
While the Linux camp argues that its platform is more secure, Enderle said it does not have all the required IIA standards and multi-levels of security that helped Windows win the Air Force contract.
Enterprise Approach
The services contract signed with Microsoft overhauls previously decentralized software support contracts into a single enterprise-wide support agreement for the Air Force so the software system can be managed and supported much as traditional weapons systems are.
Microsoft consultants will work across the Air Force's nine major worldwide commands, developing an enterprise approach to facilitate an array of new initiatives with direct Air Force participation in testing software updates.
The software products initiative, through Dell, consolidates 38 software license agreements previously established by the Air Force. It will allow the Air Force to implement standard configurations of software that will be mandated for use across global Air Force operations.
Curt Kolcun, general manager for Microsoft Federal, said that by consolidating purchases of software and hardware products across its enterprise, the Air Force will be able to enhance IT operations globally through better management, policies and planning.
"It will be able to add integrated security and configuration management processes as well as baseline requirements that will have security and software feature settings specifically configured," said Kolcun. "The partnership will help the Air Force meet its goal of standardizing software capabilities to support core Air Force operations."
Dell Cashes In
The Air Force's transformation initiative creates a new, increased level of cooperation, accountability and savings between the Air Force and Microsoft. It also provides the standardization that will give the service a greater ability to architect its enterprise using a more secure and consistent platform suite and eliminating inefficiencies.
Also core to this strategic agreement is a highly proactive effort by the Air Force and Microsoft to jointly work to solve security concerns across the Air Force's global enterprise. Through this relationship, the Air Force will drive new methods of testing and upgrading software and increase overall sharing of best practices.
The move will aid in the Air Force's effort to improve capabilities by enabling centralized testing of product upgrades and the rapid testing, distribution and installation of those upgrades on all Air Force desktopsand servers using Microsoft software worldwide.
"This agreement builds on Dell's long-standing relationship with the Air Force," said Troy West, vice president of Dell Federal Systems. "As an organization with facilities worldwide, it is important for the Air Force to efficiently and affordably procure technology when and where it needs it. This agreement enables it to accomplish that goal."