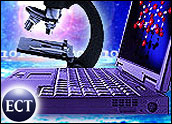 Two Republican lawmakers launched an initiative on Tuesday to overturn a voter-approved amendment protecting embryonic stem cell research in Missouri.
Rep. Jim Lembke and Sen. Matt Bartlett hope to replace the amendment with a constitutional ban on a specific research method: embryonic cloning. Missouri voters approved the amendment in November by a slim 51-49 percent margin.
The amendment protects any stem cell research allowed by federal law and officially bans attempts to create a cloned human baby. However, the cloning ban, by definition, does allow a cloning procedure to create early human embryos that are later destroyed after the stem cells are removed for research purposes.
Disagreement at the Capitol
"Our focus is to ban all human cloning, including research cloning," said Lembke. Lembke and Bartle are convinced that if voters understood the language in the amendment, they would oppose its research protections.
Other Missouri Republicans disagree with Lembke and Bartle in what has become one of the most controversial legislative topics of the 21st century. Gov. Matt Blunt and Sen. Kris Koster of Harrisonville, stood in favor of the amendment.
"My position on this is well known. I don't see a need for another constitutional amendment," Blunt said, noting that the language voters passed clearly bans cloning while allowing responsible research.
The Promise of Research
Scientists believe stem cell research offers great promise in the search for a cure and better treatment of many deadly diseases and disorders, such as diabetes, Alzheimer's disease and spinal cord injuries.
Diabetes is one of the nation's most prevalent, debilitating and costly diseases. Nearly 21 million Americans have diabetes, up from 18 million when the Centers for Disease Control and Prevention last measured diabetes incidence in 2003.
Stem cell research allows scientists to better explore how to control and direct stem cells so they can grow into other cells, such as insulin-producing beta cells found in the pancreas. Creating new beta cells could mean a cure for type-1 diabetes as they would serve as a replenishable source of cells for islet cell transplantation. They could also provide a powerful tool for controlling type-2 diabetes.
Grass Roots Groups Speak Out
The Missouri Coalition for Lifesaving Cures, a grassroots group which includes more than 100 leading patient and medical organizations, and more than 60,000 Missouri citizens, urged lawmakers Tuesday to defend the will of voters and reject any effort by stem cell opponents to overturn the amendment.
"This is nothing more than an attempt by a few politicians to push their failed agenda of outlawing stem cell research and cures in our state," said Donn Rubin, chairman of the coalition.
Attracting Biotech
Missouri is one of many states hoping to attract biotechnology and life sciences firms through its economic development initiatives. Passing the amendment was part of the legislative side of those efforts.
"Overturning this amendment would be problematic in terms of attracting biotech companies to the state and helping researchers attract private investment," said Eve Herold, director of public policy research and education at the Genetics Policy Institute. "If you ban therapeutic cloning from the get-go, that's a real problem."
The amendment does not provide a funding mechanism for stem cell research, like California's controversial Proposition 71 does. It follows federal law. With this Republican opposition, the issue could once again find its way onto the ballot.
"The amendment passed on a rather thin margin and there's a very active right to life community in Missouri that has been mobilized against this. It's going to be close. It's too close to call," Herold noted. "It just goes to show you that there is not going to be a quick and tidy resolution on this stem cell issue."