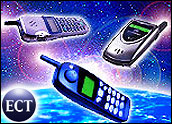 New product introductions, portfolio refreshes, and exciting new form factors helped spur growth in the worldwide mobile phone market during the third quarter of 2005, according to IDC, with Nokia continuing to dominate the market.
IDC's Worldwide Quarterly Mobile Phone Tracker reports worldwide mobile phone shipments rose 19.1 percent year over year and increased sequentially 8.8 percent in the third quarter of 2005 to reach 208.3 million units.
Year-over-year growth increased substantially over the prior two quarters, signaling a balance against slower growth during the first half of the year. Each of the top five vendors within the industry — Nokia, Motorola, Samsung, LG Electronics, and Sony Ericsson — reached all-time-high shipment levels and maintained the same rankings from the previous quarter.
"Last year, quarterly mobile phone shipments didn't reach 200 million units until the end of the fourth quarter when vendors were keeping the channels' shelves stocked for the holiday rush. As vendors announced new products earlier this year and accelerated their time to market, we've already reached this milestone," said Ramon Llamas, research analyst for IDC's Mobile Devices team.
New Devices Equal New Shipments
IDC said the extensive introduction of new devices from a number of vendors in markets worldwide to fit the full spectrum of market segments fueled healthy growth in the third quarter and ensured comprehensive early visibility and availability of devices for the fourth quarter to meet the seasonal increase in demand and spending. As in previous quarters, Western Europe was a leading region with regard to new device launches.
"The dominance of the handset subsidy model and 12-month upgrade cycles in Western Europe combined with the introduction of a number of highly publicized, multimedia-oriented high-end handsets to drive demand in a mature market that is witnessing saturation of subscriber growth," said Andrew Brown, program manager, European Mobile Devices, IDC.
But volume is one thing. Margins are another. Yankee Group wireless analyst John Jackson told TechNewsWorld that market share is interesting, but not particularly meaningful if vendors can't scale their margins.
"If you look at margins, they are relatively flattish," Jackson said. "That would indicate that the majority of volume growth is either coming from lower-end models as it has been, or these vendors are challenged to build incremental margins and to progressively higher tier handsets."
New Volumes Equal New Challenges
Despite sustained growth in the region fueled by the volume of new device releases quarter on quarter, analysts emphasize the challenge facing vendors.
Geoff Blaber, research analyst for European Mobile Devices, IDC, said as the mobile phone market becomes increasingly segmented in Western Europe, vendors are under pressure to expand their portfolios in order to comprehensively fulfill market demands with regard to air interface, form factor, technical specifications, multimedia capability, software, and ASP.
"Although new handsets will substantially assist market volume growth, the challenge for vendors is to meet differing segment requirements without over-extending the portfolio and adversely affecting margins," Blaber said.
Yankee Group's Jackson said commoditization is seeing large vendors continue to grow shipments at the expense of smaller competitors. The result is industry consolidation.
"We are already seeing the signs of consolidation, whether it is with larger vendors like Siemens exiting the business, or smaller vendors, like a number of Taiwanese and Korean and Chinese companies that have left the business over the last quarter or two," Jackson said.