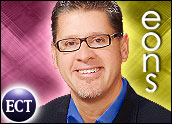 Jeff Taylor is at it again.
The Monster.com founder raised US$10 million in venture capital from General Catalyst Partners and Sequoia Capital to launch Eons, a 50-plus-targeted media company that he hopes will inspire a generation of Baby Boomers and seniors to live the biggest life possible.
Taylor launched Eons in July to target a market that his research tells him has $1 trillion of disposable income. Eons will serve that market with an online community that challenges Boomers to tackle their life dreams and adventures, celebrate their accomplishments and make the most of each day.
Eons.com debuted with 10 products. Four were developed around the key pillars of this generation's lives — body, money, love and fun — and four unique, database-driven products designed to improve with member feedback and engagement, including cRANKy, an age-relevant search engine.
There's also a suite of social networking tools, from member rating and rankings to blogs and groups that connect people with similar interests.
TechNewsWorld caught up with Taylor to discuss how he dreamt up Eons, how to attract venture capital and what he learned at Monster.com that he hopes will help him serve up a repeat performance in the Internet marketplace.
TechNewsWorld: How did you come up with the idea for Eons?
Jeff Taylor:
When I started Monster in 1993 the average age of an Internet user was about 37. This was when the World Wide Web was just being invented. I built Monster's brand around Baby Boomers changing careers. If you look at the Internet now, 13 years later, those Internet users are now turning 50 and so I have been hyper-aware and excited about the kind of movement — and in some cases, really the bold movement — of the Baby Boomer generation.
As the Boomers begin to think in much larger numbers about retirement, I started out coaching companies on how to retain the talent, but I ended up being incredibly interested in what they are going to do when they retire. I started to look for new ideas, new ways they could challenge themselves. Ultimately, it's about "Let's live to be 100 or die trying," which is one of the mottos of our business.
So I realized that there really was no TV show or magazine, no, what I would call 'earned-value brand' in the space for Baby Boomers. I realized that there was an opportunity if I could build a set of resources and products that I thought would meet the market needs. That's really the introduction of Eons.
The geological definition of Eons is a billion years. Eons takes you from the celebration of turning 50 to the reachable goal of living to 100. I am really fascinated by time. From a longevity revolution perspective, we are actually living about 20 years longer than our grandparents. So in a kind of momentary change in mankind's history, we now have an extra 20 years to live.
One of my questions is 'What are you going to do with your life?' and maybe more importantly, 'What are you going to do with that extra 20 years?' I want to encourage people to raise the bar. So Eons shows you how to 'Top 10' list your life. We also have a longevity calculator and a whole set of things that we share with you about how you can live a longer life and things you can do to improve the quality of your life.
TNW: How did you hook up with a venture capitalist like General Catalyst?
Taylor:
I met [General Catalyst Managing Director] David Fialkow in my own network about four years ago and we just hit it off. As I was looking at VC sources for funding the company, I just felt a kind of kindred connection with Fialkow. We did part of our deal with General Catalyst and then I thought it would make sense to also use a west coast VC. So we went after Sequoia and [Partner] Mike Moritz ended up investing in the business.
TNW: What are venture capitalists looking for these days, in your opinion? How do you get their attention?
Taylor:
It's an interesting combination of the kind of sexy or new technologies and new approaches to the market. In many ways Eons is much more about the new approaches to the market. In fact, approaching the market period, I've found a huge, kind of really underserved community. There weren't very many choices at all for Web sites that really focused on what we call the 50-plus Land. Looking through the eyes of people over 50, this is the first relevant search engine. All of the content is actually developed around contributions by people over 50 and them logging in their favorite sites and ranking and rating their site.
TNW: So it has a social networking aspect to it.
Taylor:
Right!
TNW: Do VCs just want experienced veterans with big ideas, or is there any hope for the no-name little guy in today's VC landscape?
Taylor:
A big idea obviously can come from any place. I think that the VCs have gotten burned by just looking at a big idea without having a management team that has the experience or expertise. This is sort of in my DNA because I have done it before.
TNW: What did you learn from your experience at Monster that is helping you with this venture?
Taylor:
I was able to carry over from Monster the experience of creating scale. That is a huge learning curve. I learned that you can actually break down the components in the cycles of creating a consumer brand. It doesn't have to be such an elusive task. I think understanding and respecting the value of a multi-dimensional brand in terms of having a brand that can be extended into another media and also across a global footprint instead of just locally is important.
TNW: If you could start Monster over again today, is there anything you would do differently?
Taylor:
I would have probably brought more talent with me to start Monster, knowing what I know now. I think I've spent every waking moment trying to figure out how to grow the kind of vital aspects of this new company, but also applying the fundamentals that I learned at Monster. The idea of launching a broad-based platform is something that I really learned at Monster and continues as a bridge over to Eons.
TNW: What's the difference between launching an Internet firm today and launching one 13 years ago? Are there different challenges today?
Taylor:
There were no Internet users other than a very technical engineering bunch when I started Monster. Today, there are fewer people over 50 using the Internet than there will be five years from now. The emerging marketplace of just getting people to join in using the Internet then versus getting the 50-plus community to join in using the Internet today — there are some extremely interesting parallels. I spent the last 12 years migrating a jobs database from the newspaper in print to online. I'll probably spend the next 10 years migrating the obituary postings in the newspaper to having them listed online.
TNW: If there was just one tip you could give someone who was trying to land VC money, what would it be?
Taylor:
I would quote Woody Allen: 'Eighty percent of the success in life is showing up' — or even drop the success and just say that 80 percent of life is showing up. If you have a big idea, you have got to show it to the VCs and do all the hard work necessary to pull it off.