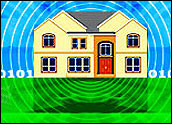 The number of U.S. households with a connected entertainment network will reach 30 million by 2010, according to a new report from Parks Associates.
A connected entertainment network is a network composed of either a PC connected to at least one consumer electronics (CE) device or multiple interconnected CE devices such as a whole-house DVR system.
"Broadband proliferation is a fundamental driver of connected entertainment opportunities inside the home," said Harry Wang, research analyst at Parks Associates. "But more importantly, better network configuration tools and easy-to-navigate user interfaces will assuage consumers' concerns about setup difficulties or application glitches."
Manufacturers Riding the Wave
According to the report, "Networks in the Home: Connected Consumer Electronics," connected entertainment will be at the heart of the development and business opportunities in the digital home.
For the near term, video service providers and CE and home networking manufacturers are driving this space with the deployment of whole-house DVRs and digital media adapters, respectively, but Wang said there will need to be cross-industry collaboration, such as efforts like the Digital Living Network Alliance (DLNA), to fully realize the opportunities in connected entertainment.
"Consumer electronics manufacturers are still searching for the Rosetta stone of the connected entertainment market," Wang said. "To move beyond the early-adopter stage, CE manufacturers must ally with content and service providers, software developers and silicon designers to build elegance and usability into the product design and bring popular digital content to consumers' fingertips anywhere in the home."
PCs Play Expanding Role
These trends will result in the transformation of existing products such as PCs and set-tops into whole-home media servers, according to a separate study from ABI Research. Driven by the efforts of Microsoft, Intel and Apple, the PC media server market alone will grow from US$3.7 billion in 2006 to $44.8 billion by 2011 as mainstream PCs become fully functional media servers,
"With the arrival of faster in-home digital networking technologies such as MoCA, an industry-accepted framework for networked digital media distribution in DLNA, and the increase in both pay-TV and Internet content moving over in-home networks, the home media server is becoming a key beachhead in the digital home," says ABI Principal Analyst Michael Wolf.
The Foundation of Digital Music
There was once a debate about whether the PC or TV would be the dominant screen in the home. The PC is clearly making headway, according to Yankee Group analyst Boyd Peterson, especially from a music perspective.
"The PC really is at the foundation of music services. Increasingly we are going to see similar phenomenon in terms of it being a very important part of the video service. That leads to a need for more connectivity," Peterson told TechNewsWorld. "The PC is extraordinarily relevant as a management device."
Media Server Evolution
ABI Research believes that the digital media server will evolve into four main categories: PCs, set-top boxes, consumer electronics devices such as gaming consoles or PVRs, and Network Attached Storage (NAS) hardware. While in coming years many consumers will centralize much of their content on a Media Center PC, ABI Research believes that the determining factor will be the type of content.
"Success stories in the PC camp, such as the approval of OCUR CableCard support in Windows Vista, will certainly mean some adoption of pay TV going over networks installed by consumers," says Wolf. "But we believe that the pay TV media server category will be dominated in the near- to medium-term by the set-top box, while the PC media server and consumer electronics categories will flourish as personal and Internet content media servers."