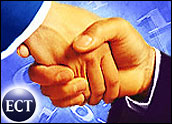 In an effort to encourage greater adoption of broadcast mobile TV services and accelerate service deployment, Motorola and Nokia on Monday said they would work together to make their Digital Video Broadcast-Handheld (DVB-H)-enabled mobile devices and network services interoperable.
DVB-H technology enables the TV service most consumers are familiar with at home to be broadcast to a mobile device. Qualcomm and Samsung worked together to demo a competing standard called FLO technology earlier this year.
With extensive pilots of broadcast mobile TV currently taking place across the globe involving broadcasters, mobile operators, broadcast network operators and handset manufacturers, the market for commercial broadcast services is expected to grow throughout 2006 and beyond. Nokia and Motorola want their share of the pie.
Collaborating for Dollars
The competing handset manufacturers will collaborate to support solutions based on open DVB-IPDC (Digital Video Broadcast-Internet Protocol Datacast) standards. The solutions will be available to operator partners interested in deploying multi-vendor mobile TV services and trials in 2006 and onward.
"Operators around the world are evaluating broadcast mobile TV as a compelling new service to offer their subscribers — and interoperability will play a key role in bringing these services to market faster," said Rob Bero, director of broadcast technologies, Motorola.
The mobile TV market is poised to grow exponentially. By 2010, over 50 million DVB-H-enabled mobile devices are expected to be sold globally, according to Informa. The deployment of mobile TV services will offer new business opportunities for companies across the value chain, the research firm said. Motorola and Nokia believe the availability of interoperable DVB-H-enabled devices and services is a key factor in further opening up the market.
"This announcement is significant to consumers. It would be nice if the number one and number two suppliers of handsets were singing out of the same hymn book," Will Strauss, president and technology analyst, Forward Concepts, told TechNewsWorld. "A lot of people are betting the farm that mobile TV is going to be really big."
Two Technologies
Among the many digital technologies available to deliver mobile TV services, DVB-H is viewed by both Nokia and Motorola as an effective technology for deploying broadcast mobile TV. However, analysts said Motorola will probably end up supporting FLO technology as well since it sells plenty of handsets to Verizon, Sprint and Alltel, all of which operate on CDMA, which only works with FLO.
Motorola is concentrating on DVB-H for now, however. "Nokia and Motorola want to be assured that all the investments — each company is going to be investing tens of millions of dollars into the handsets — are really going to work," Strauss said. "They want assurance that they can both decode DVB-H signals properly after seeing some glitches at tests during the World Cup soccer games."
Ongoing Standardization
Parallel to supporting mobile operators launching mobile TV services based on existing technologies in their networks, Motorola and Nokia are both active in ongoing standardization and technology development to optimize the broadcast mobile TV experience. The companies will work on interoperability efforts using the open DVB-IPDC standard while continuing to participate in industrywide interoperability efforts within the related standardization bodies.
"Commercial mobile TV services are on the verge of launching in several markets across the world. In order for mobile TV to be a true success, we need interoperable mobile devices and systems which deliver the best experience for consumers and enable enjoyable, live broadcast TV when and where it suits them, redefining prime times and television program content," said Harri Mannisto, director, multimedia experiences, Nokia.