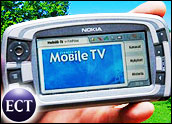 The day when TV fans watch their favorite prime-time shows on handheld portable devices may be coming sooner than expected. A group of wireless and entertainment companies banded together on Monday to promote the growth and evolution of a digital-video broadcasting standard already in use in Europe.
The Mobile DTV Alliance, withIntel,Motorola,Nokia,Texas Instruments andModeo among its founding members, announced support for Digital Video Broadcasting – Handheld (DVB-H), an open procedure standard for broadcast digital-TV reception on mobile devices.
"Motorola's extensive experience in video distribution and cellular tells us that Mobile TV is poised to be one of the next great consumer experience drivers," said Rob Bero, director of broadcast technologies at Motorola Mobile Devices.
Promoting Best Practices
As mobile video entertainment gains increased exposure and availability, the alliance will focus on promoting best practices and open standards for the delivery of premium-quality broadcast television to mobile devices in the North American market.
Founding members expect the open procedure, industry-supported standard to foster growth throughout the wireless market by making more choices available across the value chain with respect to silicon, handsets, services and more. The companies figure such a standard would allow mobile DTV handsets and services to reach the mass market faster and at a lower cost to consumers.
"The mobile-TV market is heating up, with both trials and deployments accelerating over the next 12-18 months," said David Linsalata, research analyst for Mobile Markets at IDC. "The support of key industry players in promoting the advantages of the DVB-H standard will significantly aid mobile-TV deployment efforts in North America."
Weighing the Benefits
Using mobile devices capable of decoding DVB-H signals, users will be able to receive live TV programming from themobile-TV function directly on their phones and other devices.
Users also will gain access to on-demand and interactive programming via the cellular network, increasing revenue opportunities. The DVB-H standard benefits operators by preserving cellular network bandwidth for voice and other data services.
"Over half the market now is replacement cell phones, and everyone looks for what's going to make people buy more cell phones," Will Strauss, president and technology analyst at Forward Concepts, told TechNewsWorld. "The DVB-H standard would presumably cause a lot of people to discard the old phone and get a newer, more expensive cell phone in the future."
If They Build It…
Alliance members agree that mobile broadcast TV, together with 2.5G and 3G networks, offers an exceptional user experience and more efficient utilization of operators' spectrum and resources.
However, the proposed infrastructure would cost several hundred million dollars to build, with Crown Castle, Modeo's parent company, footing most of the bill.
"It's sort of like 'Field of Dreams.' If you build it, will they come? Of course, the whole idea is to make sure there will be people with cell phones and portable devices that will, in fact, want to be able to view images over DVD-H," Strauss said.
That remains to be seen.
More than 10 DVB-H network trials have either concluded or are currently underway around the globe, including in Australia, Finland, France, Germany, Italy, the United Kingdom and the United States. By 2007, most U.S. major markets are expected to have DVB-H infrastructure built out and ready for deployment.