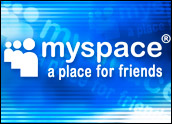 MySpace.com on Monday said it has licensed technology to block unauthorized copyrighted music audio recordings from being posted on its site.
Like YouTube and other social networking sites, MySpace is feeling the pressure from major record labels and Hollywood studios to stem the tide of copyright infringers. Social networkers often use songs or movie and television clips in mashups and post them on their sites.
"MySpace is staunchly committed to protecting artists' rights — whether those artists are on major labels or are independent acts," said Chris DeWolfe, CEO and co-founder of MySpace. "This is another important step we're taking to ensure artists control the content they create."
Thwarting Infringers
MySpace will use Gracenote's MusicID audio fingerprinting technology and Global Media Database to review all music audio recordings uploaded by community members to their profiles.
The technology enables MySpace to identify copyrighted music audio recordings in the Global Media Database for designated rights holders, allowing MySpace to block the uploading of such works.
The use of Gracenote's technology will allow MySpace to more effectively implement its long-standing user policy against uploading copyrighted material, the company said. Consistent with MySpace's current policy, individuals who repeatedly attempt to upload unauthorized music will have their accounts permanently deleted.
A New Technology Trend
The plight to block social networkers from posting illegal user-generated content could spur a new technology trend, and indeed, in some ways, it already has. In addition to Gracenote, Freedb.org and CDIndex are making waves in the open source community.
Gracenote's technology, however, is most well know. The technology is broadly used in the digital media industry and has several applications, including content filtering, broadcast monitoring, mobile music recognition, music file recognition and rights clearance.
Gracenote's solutions are also embedded in leading media players such as Apple's iTunes, Yahoo's Music Engine, RealNetworks' Rhapsody, Napster and AOL's Winamp, as well as software applications for Creative and iRiver portable devices.
Legal Implications
Legal analysts believe this technology trend will become stronger as even smaller social networking sites begin to strike content deals with copyright holders.
"Because these sites like MySpace and YouTube generate their income based on an advertising business model, there's always the argument that illegal content on the Web site serves as a draw to those Web sites," Jeffrey Brown, an intellectual property attorney with IP firm Merchant & Gould, told TechNewsWorld.
"Therefore, if these sites are aware of the infringing content and don't take steps to eliminate it, then they could be found liable for secondary copyright infringement and probably, contributory copyright infringement or perhaps even vicarious liability."
YouTube's Deals
Brown points to YouTube's recent deal with Universal Music Group (UMG) as an example of what's to come. YouTube users can now freely incorporate music from UMG's recorded music catalog into the videos they create and upload onto YouTube.
UMG and its artists will be compensated not just for UMG produced videos but also for the unique, user created content that incorporates UMG music. YouTube and UMG have also agreed to a process to protect UMG copyrights using technology to filter out UMG content that is not authorized to appear on the YouTube service.
"Many of the copyright holders are going to find value in finding this sort of alternative market for their product," Brown noted. "They are going to be interested, at least, in engaging in some sort of negotiations with these Web sites to capitalize on this new market."