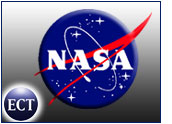 The NASA Glenn Research Center is leading efforts to develop a new space vehicle to replace the space shuttle and take astronauts to the moon and beyond.
The National Aeronautics and Space Administration (NASA) on Monday announced several new exploration work assignments for the Cleveland-based NASA Glenn Research Center. NASA Glenn will play a key role in implementing the Vision for Space Exploration, which includes the Constellation Program for robotic and human moon and Mars exploration.
"There's still much to be done as we prepare for space exploration, but NASA Glenn is up to the challenge and looks forward to a bright future in space flight systems development," said Glenn Center Director Woodrow Whitlow Jr., noting that the assignment would benefit the nation, the agency, the center, its employees and the greater Cleveland community.
Up to the Challenge
NASA Glenn will lead the Crew Exploration Vehicle (CEV) Service Module and Spacecraft Adapter integration, providing oversight and independent analysis of the prime contractor's development of these segments. Glenn will also have lead responsibility for the design and development of several Crew Launch Vehicle service modules.
The service module is a vital element of the CEV, which will replace the shuttle when it retires from service in 2010. It will provide major maneuvering capability with a propulsion system, generate power using solar arrays and keep the vehicle cool with heat rejection radiators.
"Our space program is more than high-tech machines and advanced computing; it's the product of smart people — very smart people — working together for our nation," said Senator George Voinivich (R-Ohio).
Very Smart People
It will take some "very smart people" to shift its focus its research on a new type of space vehicle. JSA research analyst Peter Arment is confident that industry is already spending research and development dollars in pursuit of this project.
"This investment brought a renewed focus to the allocation of resources going forward in terms of a replacement for the shuttle and a long-term objective of the next mission," Arment told TechNewsWorld. "Industry has a heritage of providing the previous launch vehicles, so it's up to NASA to come up with the requirements and move forward."
Varied Responsibilities
NASA Glenn's CEV responsibilities will also include flight test article and pathfinder production for the service module and spacecraft adapter, and integration analysis and systems engineering and integration.
Glenn will spearhead leak detection sensors development, the purge system, hazardous gas detection system, upper stage systems engineering and integration, J-2X engine thermal/vacuum testing at Glenn's Plum Brook Facility and vehicle integration design analysis support. Finally, the center will also take the lead in the development of an upper stage module for the advanced development flight test.
The Next Level
Phase II of the project will include responsibilities for Safety Reliability and Quality Assurance Programming (SR&QA). Glenn will take the lead for failure mode and effects analysis integration and program trends analysis, support for document maintenance, program trending, integrated hazards analysis, and quality audits, and will represent SR&QA at assigned systems integration groups.
Glenn will oversee systems engineering an integration, as well as work on test and verification and advance projects office work. NASA did not release figures on the project's worth, but congressional budget experts have estimated the 15-year costs at more than US$125 billion.