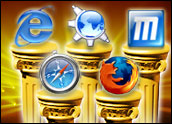 AOL has unveiled a prototype of its revived Netscape browser without half the hype that Mozilla programs like Firefox and Thunderbird have been fetching. However, a new Netscape browser could make a big splash post-beta testing thanks to some cross functionality and security features, according to analysts.
Based on the wildly popular open-source Firefox 0.9.3, the Netscape prototype unveiled last week is testing several new features, including support for switching to Microsoft's Internet Explorer (IE) engine. That means no trouble viewing Web sites designed for IE compatibility.
The prototype uses the same user interface toolkit and Gecko browser engine, but will don the traditional Netscape green and customized toolbar extensions.
It's another chapter in the browser wars, said Jupiter analyst Joe Wilcox, and an interesting one at that.
"Everyone has been talking about compatibility issues," Wilcox told the E-Commerce Times. "That issue is eliminated with the Netscape prototype. Netscape's hybrid browser makes it very easy for users to switch from Firefox to Internet Explorer and it offers you plenty of cool features."
Focus on Security
Wilcox said it's been a long time since a Netscape browser generated that "kid-in-a-toyshop" feeling. However, cool features aside, the security focus of the new prototype is what analysts said could cause a migration away from IE and even Firefox.
"I would gauge privacy and security as a little better with the Netscape prototype than other current browsers," Wilcox said. "For example, the cookie handling is more sophisticated in the Netscape prototype than it is with Firefox."
Buttons lead to pop-up blocking, passwords, form information and page history. Wilcox said drop-down menus expose granular controls, such as turning on anonymous browsing that clears the history, cache and cookies when the browser closes.
Mozilla v. Mozilla
"I've heard lots of talk of a new browser war, this time between Internet Explorer and Firefox. I wouldn't count Netscape out yet," Wilcox said. "In fact, I would encourage the Internet Explorer and Firefox teams to consider what new challenges Netscape may present — and how AOL might leverage advantage."
But could this new browser war be Mozilla v. Mozilla, since both Firefox and the Netscape prototype are built on the same technology? That remains to be seen. However, one thing is certain: Jupiter Research surveys show that 94 percent of U.S. consumers use IE on their primary PC and 24 percent of customers use the IE-based AOL browser.
"AOL contributes significantly to Internet Explorer usage," Wilcox said. "So AOL has a good reason to try to advance the new Netscape browser. That may not be good news for Firefox."