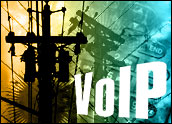 Skype on Thursday announced cordless phones that do not require a running computer to use its Voice over Internet Protocol services. The new class of phones lets users make and receive Skype calls over both Internet and traditional landlines.
Skype has partnered with Philips and NetGear to introduce the first two cordless phones with this ability.
Skype recently introduced WiFi phones and Skype PocketPC wireless. Making a way for users to use the service without a running PC is the next step, according to Stefan Oberg, general manager, desktop and hardware at Skype.
"We are broadening our reach to mass consumers by offering them the opportunity to communicate via Skype without having to be tied to the computer," Oberg said.
Broadening Reach
Skype is talking up the benefits of the new phones, reminding users that cordless phones offer increased mobility and allow several people to hold separate conversations simultaneously using multiple cordless phone handsets.
Since both the Philips VOIP841 and the NetGear cordless phones can make and receive traditional telephone calls through a landline, Skype is promoting them as replacements for ordinary cordless phones. However, the company made it clear that the phones do not replace landlines and cannot be used for emergency calling.
The question is whether or not the world is ready for Skype's latest innovation.
"There is a notion that this type of functionality is a bit ahead of the curve, but it's how you play the game. This might not show up in grandpa's home, but it may show up in a tech-friendly house of an urban professional who has kids," IDC analyst Will Stofega told TechNewsWorld.
Partnering for Success
The Philips and NetGear cordless phones will be Skype Certified. This partnership strategy has helped Skype get to where it is today, according to analysts.
"What's great about Skype is that the company has been willing thus far to work with partners and help advance both the hardware manufacturers' cause as well as their own. This deal is proof of that concept," Stofega said.
As smaller competitors nip at Skype's heels, the firm is is stepping into competitor Vonage's (NYSE: VG) territory with its latest strategy. Skype's new functionality targets some of Vonage's core competencies — especially public switched telephone network (PSTN) replacement.
Though Skype declares it is not a traditional phone line replacement, its Skype In/Out features and now the ability to make calls without a running PC inches the company closer to Vonage. However, unlike Vonage, it does not have the responsibility of providing costly e911 services in which Vonage has been forced to invest.
"Skype has been more about the interface and being able to transport that over a multitude of devices. This adds yet another angle and takes a different shot at the PSTN replication service that Vonage does," Stofega said. "It certainly gives people another choice. That could be compelling."